New 8-Channel Input Module for DXS-100 and DDX-100 Data Acquisition System
Press Release Summary: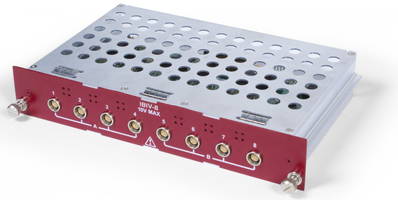 IBIV-8 simplifies wiring and built-in hardware-based counter and timer functions eliminate the need for additional hardware
Provides full 24-bit resolution across selected measurement range
Supports 120, 350, 500 and 1000 ohm bridge resistances
---
Original Press Release:
AstroNova Announces 8-Channel Input Module for Bridge, Current, Voltage, and IEPE Measurements
New sensor input module provides flexibility and higher channel density to reduce cost of test
West Warwick, R.I., May 7, 2020 - AstroNova® Test and Measurement expands its line-up of input modules with the release of the IBIV-8 module for Daxus® DXS-100 and SmartCorder® DDX-100 data acquisition systems. With internal bridge completion, shunt calibration, and support for the most common bridge resistance values, the IBIV-8 is ideally suited for bridge-based sensors and strain measurements. The IBIV-8 also offers unparalleled flexibility allowing users to perform a variety of measurements in a single module.
Offering eight input channels, the IBIV-8 reduces the cost per channel by as much as 38% versus existing modules and competitive offerings. Available with 10-pin Lemo or D-Sub connectors, the IBIV-8 simplifies wiring, and built-in hardware-based counter and timer functions eliminate the need for additional hardware.
Product features include:
Simultaneous sampling at up to 100 kS/s/ch
5 measurement ranges (+/- 10 V, +/- 2 V, +/- 200 mV, +/- 50 mV, and +/- 20 mV)
Full 24-bit resolution across selected measurement range
High accuracy (+/- 0.03% for 10V, 2V and 200 mV attenuator settings)
Supports 120, 350, 500, and 1000 bridge resistances
Software selectable Internal ¼ and ½ bridge completion (120 and 350) and shunt calibration
10-pin Lemo or D-Sub connector options
Built-in counter and timer functions
All AstroNova Test and Measurement products are designed and manufactured in the USA and supported by a global team of engineers.
To learn more about the IBIV-8 module and the Daxus & DDX data acquisition system capabilities, visit:
https://tm.astronovainc.com/products/data-acquisition-systems/
For more information, or to schedule an online demo:
Call: 401-828-4000 or 877-867-9783 (toll-free USA)
Email: daq@astronovainc.com
About AstroNova
AstroNova, Inc. (NASDAQ: ALOT), a global leader in data visualization technologies since 1969, designs, manufactures, distributes, and services a broad range of products that acquire, store, analyze, and present data in multiple formats.
The Product Identification segment offers a complete line-up of labeling hardware and supplies, allowing customers to mark, track, and enhance the appearance of their products. The segment is comprised of three business units: QuickLabel®, the industry leader in tabletop digital color label printing; TrojanLabel®, an innovative leader for professional label presses; and GetLabels™, the premier supplier of label materials, inks, toners, ribbons, and adhesives, all compatible with the major printer brands. Supported by AstroNova's customer application experts and technology leadership in printing, material science, and high-speed data processing, customers benefit from an optimized, "total solution" approach.
The Test and Measurement segment includes the AstroNova Aerospace business unit, which designs and manufactures flight deck printers, networking hardware, and related accessories serving the world's aerospace and defense industries with proven advanced airborne technology solutions for the cockpit and the cabin. The Test and Measurement business unit, which offers a suite of products and services that acquire, record, and analyze electronic signal data from local and networked sensors.
Contact:
Bryan Nadeau
General Manager – Test & Measurement
AstroNova, Inc.
(877) 867-9783 (toll-free USA)
(401) 298-8929
bnadeau@astronovainc.com
More from Electrical Equipment & Systems