New 650 V SiC MOSFETs Feature High Frequency Operation
Press Release Summary: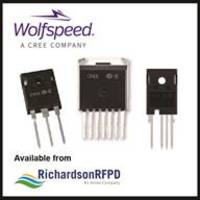 Features robust body diode with low reverse recovery charge
Available in both through-hole and surface mount packages
Ideal for server power supplies, EV charging systems and solar (PV) inverters
---
Original Press Release:
Richardson RFPD Announces Availability of Wolfspeed's New 120 mΩ, 650 V SiC MOSFETs
Latest additions to industry-leading lineup of 650 V SiC MOSFETs
March 10, 2021 – Geneva, Ill.: Richardson RFPD, Inc.announced today the availability and full design support capabilities for three new 120 mΩ, 650 V SiC MOSFETs from Wolfspeed, a Cree Company.
Wolfspeed's 650 V SiC MOSFET portfolio is based on the latest third-generation C3M™ SiC MOSFET technology, offering the widest range of on-resistances, the industry's lowest on-state resistances in a discrete package, as well as low switching losses—enabling high efficiency and power density.
The new 120 mΩ, 650 V SiC MOSFETs are available in both through-hole (TO-247-3, TO-247-4) and surface mount (TO-263-7) packages
Additional key features of Wolfspeed's 650 V SiC MOSFETs include:
Superior overall system level efficiency
High frequency operation
Robust body diode with low reverse recovery charge
Kelvin Source connection to reduce parasitic inductance and switching losses
Industry-standard packages that meet creepage and clearance requirements
Target applications include:
Server power supplies
EV charging systems
Energy storage systems (UPS)
Solar (PV) inverters
To find more information, to request samples, or to purchase these products today online, visit the Wolfspeed 650 V SiC MOSFETs webpage. The devices are also available by calling 1-800-737-6937 (within North America); or find a local sales engineer (worldwide) at Local Sales Support. To learn about additional products from Wolfspeed, visit the Wolfspeed storefront webpage.
About Richardson RFPD
Richardson RFPD, an Arrow Electronics company, is a global leader in the RF, wireless, IoT and power technologies markets. It brings relationships with many of the industry's top radio frequency and power component suppliers. Whether it's designing components or engineering complete solutions, Richardson RFPD's worldwide design centers and technical sales team provide comprehensive support for customers' go-to-market strategy, from prototype to production.
More information is available online at www.richardsonrfpd.com. Follow Richardson RFPD on Twitter at www.twitter.com/Richardson_RFPD.
To subscribe to Richardson RFPD's New Products e-newsletter, visit www.richardsonrfpd.com/subscribe.
More from Computer Hardware & Peripherals