New 2561/2562 Series IEC C6 Inlet With Smaller Form Factor
Press Release Summary: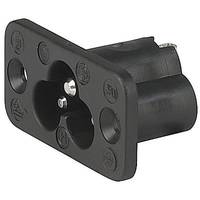 256/2562 series offers holes for countersunk and flush mount screws
C6 inlet reduces area consumed on the panel by up to 40%
Applications include portable medical lab, therapeutic, pro audio equipment and datacom routers
---
Original Press Release:
IEC Style C6 Inlet for Smaller Enclosures is UL Uprated to 7A/125 VAC According to UL/CSA 60320-1
Santa Rosa, California, May 13, 2021 – SCHURTER announces a change to the UL/CSA ratings for its 2561/2562 series IEC C6 inlet. The inlet conforms with the standards update UL 498 & CSA C22.2 to UL 60320-1, where the ratings are also updated to reflect both IEC 2.5A at 250 VAC and UL 7A at 125 VAC.
With the trend toward downsizing equipment to achieve smaller form factors, the power supply is often an area under review for design improvements. The size of a power inlet is dictated by regulatory standards, which also corresponds with standards for detachable mating cord sets. These standardized sizes may therefore impose space constraints in the equipment. Within the IEC standard, typical styles are C6, C14 and C20 with varying power ratings. The C6 inlet can reduce the overall area consumed on the panel by up to 40% over the C14 inlet. The trade-off however is a reduction in ratings. For instance, the C6 is rated 2.5A verses the C14 at 10A according to the IEC standard. The UL standard has a rating difference of 7A versus 15A. Nonetheless, many applications require less power consumption and therefore the C6 with its smaller form factor is potentially an ideal solution.
Examples of applications include portable medical lab, therapeutic, cosmetic surgical devices used in hospitals, clinics and doctors' offices, pro audio equipment and datacom routers/switchers.
The 2561 offers holes for countersunk screws, while the 2562 has holes for regular or flush mount screws. Varying terminals are offered including long and short solder or PCB terminals. A combination of terminals is also possible with the 2561, for instance short solder terminals for L and N and long solder terminal for E.
SCHURTER offers a full range of IEC appliance inlets and outlets, including a smaller C8 version without ground terminal for appliances commonly used in homes. Link to datasheets 2561 and 2562. For sales and product information, contact Cora Umlauf at (800) 848-2600 or by email at info@schurterinc.com
About SCHURTER Inc.
The SCHURTER Group is the world's leading Swiss technology company providing components and complex solutions that ensure safe power supply and simplified equipment operation. The company's professional competence, financial independence, innovative strength and distinctive corporate culture, propel the SCHURTER Group, together with its customers and partners, into the digital future. The safe&easy brand claim not only refers to the products, but also the company's business philosophy, which strives for sustainable success through innovation, high-quality products and service, flexibility and proximity to customers.
SCHURTER is known globally as an innovator, manufacturer and distributor of fuses, connectors, circuit breakers, switches, EMC products, and input systems. Touch screens and touch panels, capacitive sensor keypads, membrane keypads and housing systems are developed in close cooperation with its customers. Within its business unit Solutions, SCHURTER combines all competencies and puts them at the customer's disposal. SCHURTER products and solutions are developed especially for specific industry segments – medical, data and communication, automotive, avionics & space, energy and the broader industrial market. SCHURTER considers the quality of its products and services as the key factor to the company's lasting success. Its management and improvement processes are designed and certified according to ISO 9001, ISO 13485, ISO 14001, ISO 45001 and IATF 16949, using the EFQM and Baldrige Excellence Models, as well as the application of Lean Management principles such as Value Stream Planning, Power Innovation, SSO, and Six Sigma.
SCHURTER Inc., Santa Rosa, California is the exclusive North America sales and distribution office for the SCHURTER Group.
Editorial Contact: 
Michael Sandoval
michael.sandoval@schurter.com
Contact This Company Download Spec Sheet
More from Electrical Equipment & Systems