Neutral Density Filters attenuate light from UV to NIR.
Press Release Summary: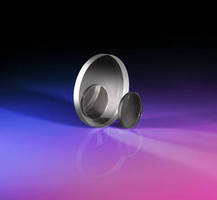 Providing constant, ultra-broadband performance from 190–1,700 nm, TECHSPEC® UV-NIR Neutral Density Filters exhibit parallelism of less than 5 arcseconds. Units are available in 18 models with diameters of 12.5, 25, and 50 mm and optical densities of 0.3, 0.5, 1.0, 1.3, 1.5, and 2.0. Suitable for spectroscopy, machine vision, and ellipsometry applications, filters can be stacked to create intermediate density values.
---
Original Press Release:

TECHSPEC® UV-NIR Neutral Density Filters Provide Constant Transmission from 190-1700 nm



Multiple optical densities available



Barrington, N.J. - Edmund Optics ® (EO), the premier provider of optical components, introduces new TECHSPEC® UV-NIR Neutral Density (ND) Filters. These versatile filters are used to attenuate light from the ultraviolet (UV) to the near-infrared (NIR) for use in a wide variety of applications.



ND Filters feature outstanding surface characteristics

TECHSPEC UV-NIR Neutral Density Filters exhibit excellent parallelism of less than 5 arcseconds with outstanding surface characteristics. They provide constant, ultra-broadband performance from 190-1700 nm. A UV-NIR Neutral Density Filter Kit, available in 12.5, 25 and 50 mm diameter sizes, includes all optical densities for maximum versatility and utility.



Stack filters to create intermediate density values

TECHSPEC UV-NIR Neutral Density Filters are ideally suited for a wide range of applications, including spectroscopy, machine vision, or ellipsometry. They are also excellent for use with low power lasers. TECHSPEC UV-NIR Neutral Density Filters can be stacked to create intermediate density values for optimal value and ease of use.



Available 18 varieties and three complete filter kits

In addition to the ND Filter Kits, TECHSPEC UV-NIR Neutral Density Filters are available in 18 different individual models, with diameters of 12.5 mm, 25 mm and 50 mm and optical densities of 0.3, 0.5, 1.0, 1.3, 1.5 and 2.0.



About EO:

Edmund Optics® (EO) is a leading producer of optics, imaging, and photonics technology for R&D, electronics, semiconductor, pharmaceutical, biomedical, and military markets around the globe. EO is the world's largest supplier of off-the-shelf optical components. Customers can purchase items by contacting EO at 1-800-363-1992, via the catalog, or via the website at www.edmundoptics.com



Company Contact:

Kirsten Bjork-Jones

Director Global Marketing Communications

Edmund Optics®, Inc.

101 East Gloucester Pike

Barrington, NJ 08007 U.S.A.

Phone: 1-800-363-1992

Fax: 1-856-573-6295

email: kbjork-jones@edmundoptics.com



European Contact:

Agnes Huebscher

Director European Marketing

Edmund Optics

Zur Giesserei 8

76227 Karlsruhe, Germany

Tel.:   +49 (0)721-62737-38

Fax:   +49 (0) 721 6273750

E-Mail:   AHuebscher@edmundoptics.de

More from Test & Measurement