Industrial / Specific Purpose Computers
NEMA 4X PC Terminal suits harsh or wash-down environments.
Press Release Summary: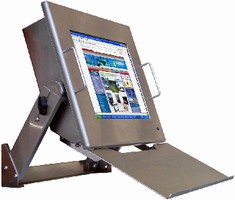 Featuring sealed stainless steel case, Model VTPC150SE is equipped with 800 MHz VIA Eden processor and 15 in. color LCD TFT resistive touch-screen. Teflon® tip pen is available to point precisely on touch screen. Flash drive comes complete with Microsoft Windows XP® Embedded OS and includes security features that protect drive from deletions and modifications to OS. Terminal can be configured with 3 serial ports, 2 USB ports, and one 10/100 BaseT Ethernet port.
---
Original Press Release:

Wash Away the Grime - NEMA 4X (IP66) Integrated PC Terminal for Harsh or Wash-Down Environments



Baton Rouge, Louisiana, USA April 2006 - VarTech Systems has recently introduced the VTPC150SE all-in-one monitor and computer. This completely sealed system can survive in the harshest wash-down environments.

The VTPC150SE is a totally sealed low-power consumption computer terminal. The sturdy totally sealed stainless steel case is ideally suited for wash-down or dusty/dirty industrial environments. The base configuration is nicely equipped with a color LCD screen 24-bits color TFT 15 inch resistive touch screen (1024 x 768 XGA) and a VIA Eden 800 MHZ processor. A Teflon tip pen is available to point precisely on the touch screen. As an option, a WiFi 802.11b RF network interface can be ordered.

To enhance system usability the flash drive comes complete with Microsoft Windows XP® Embedded operating system and is designed with built-in security features that protect the flash drive from deletions and modifications to the operating system. The terminal can be configured with three (3) serial ports (optional), two (2) USB ports, and one (1) Ethernet port 10/100 Base T.

As well, the company recently released a versatile and affordable computer designed for industrial environments (without water). The VTPC150XPE is a ventilated Wall or Benchtop terminal with a VIA Eden® 800 MHz processor and Color LCD screen TFT 15 inch touch screen resistive. This dustproof anodic aluminum case resists most industrial environments. A tilt stand that can be wallmount or desktop position is included. Many ports are available to connect peripherals like, industrial keyboard, barcode reader, proximity reader, etc. To enhance system usability the flash drive comes complete with Microsoft Windows XP® Embedded operating system and is designed with built-in security features that protect the flash drive from deletions and modifications to the operating system. The terminal can be configured with three (3) serial ports (optional), two (2) USB ports, and one (1) Ethernet port 10/100 Base T.

VarTech Systems is a worldwide leader of industrial and marine/military grade LCD flat panel display systems and rugged CRT monitors. Today, VarTech Systems products are used in virtually every industrial sector in a wide variety of applications. From the factory floor to the control room, from the ship's bridge to submarine sonar, from the cockpit to the simulator, from the harshest environments such as direct hose-down washing to vehicle mounting for the Border Patrol, our products provide exceptional quality and reliability. VarTech display products include ruggedized touch screens, NEMA 4 and 4X (IP65/IP66) industrial panels and enclosures, public access kiosks, formidable systems for mission critical applications, sunlight readable displays designed to operate throughout high ambient light conditions, and dependable solutions for the harshest indoor locations and the worst outdoor environments.

For More Information Please Visit:
http://www.vartechsystems.com/products/panelpc/VTPC150SE.asp
http://www.vartechsystems.com/products/panelpc/VTPC150XPE.asp

Company Information
VarTech Systems Inc.
International Phone: 001.225.298.0300
Toll Free: 800.223.8050
sales@vartechsystems.com
http://.vartechsystems.com
Company Name: VarTech Systems Inc.
Phone: 800-223-8050

Contact Name: Worth Powers
E-mail: wpowers@vartechsystems.com

More from Electronic Components & Devices