Nd:YAG Laser Mirrors feature high damage thresholds.
Press Release Summary: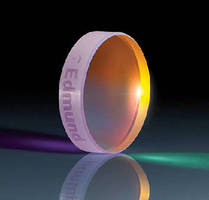 With all-dielectric Ion Beam Sputtered coatings, TECHSPEC® High Power Nd:YAG Laser Mirrors provide reflectance up to 99.9% at 45° incidence. UV-grade fused silica mirror substrates are polished on both sides, which allows user to monitor transmitted light leakage through backside in demanding laser applications. Available in 0.5, 1.0, and 2.0 in. diameters, mirror models include YAG fundamental at 1064 nm, second harmonic at 532 nm, and UV versions at 355 and 266 nm.
---
Original Press Release:

TECHSPEC® High Power Nd:YAG Laser Mirrors Feature High Damage Thresholds



IBS coatings provide up to 99.9% reflectivity



Barrington, N.J. — Edmund Optics® (EO), the premier provider of precision optical components, introduces its new TECHSPEC® High Power Nd:YAG Laser Mirrors. These high reflectance mirrors feature industry-leading, all-dielectric Ion Beam Sputtered (IBS) coatings which deliver high laser damage thresholds for demanding applications in high power beam delivery and laser beam steering.



Lot-traceable coatings documented in individual Certificate of Compliance



Each Laser Mirror is individually packaged with its own Certificate of Compliance, including batch traceability to the exact mirror coating lot. These new high-performance IBS mirror coatings provide increased laser damage threshold and reflectance up to 99.9% at 45 degree incidence. Edmund Optics is also pleased to include laser engraved markings on each Laser Mirror, identifying the Edmund Optics stock number, design wavelength, and indicators pointing to the coated mirror surface.



High Power Nd YAG Laser Mirror



"In demanding YAG Laser applications, high performance Laser Mirrors are fundamental optical components. We tried to consider every detail to provide a laser mirror solution that is technically robust, with lot traceable coatings and convenient packaging in the most popular sizes used today," notes Anthony Artigliere, Director of the Optics Business Unit. "We have also 'sharpened our pencils' to offer these new Laser Mirrors at very attractive prices for cost-conscious users in this market space."



Excellent thermal stability provided with fused silica substrates



These UV grade fused silica mirror substrates are polished on both sides, which allows a user to monitor transmitted light leakage through the backside in the most demanding laser applications. The mirror coated surface meets stringent ë/10 flatness (or surface accuracy) and 10-5 scratch-dig.



Twelve new Laser Mirror models include the YAG fundamental at 1064 nm, the second harmonic at 532 nm, and UV versions at 355 and 266 nm. Sizes are available in inch-scale formats of 0.5 (12.7 mm), 1.0 (25.4 mm) and 2.0 inch (50.8 mm) diameters.



TECHSPEC High Power Nd:YAG Laser Mirrors will be on display at the Edmund Optics Booth 409, Hall B1 at Laser World of Photonics in Munich, Germany from June 22-25.



About EO:

Edmund Optics® (EO) is a leading producer of optics, imaging, and photonics technology for R&D, electronics, semiconductor, pharmaceutical, biomedical, and military markets around the globe. EO is the world's largest supplier of off-the-shelf optical components. Customers can purchase items by contacting EO at 1-800-363-1992, via the catalog, or via the website at www.edmundoptics.com



Company Contact:

Kirsten Bjork-Jones

Director Global Marketing Communications

Edmund Optics®, Inc.

101 East Gloucester Pike

Barrington, NJ 08007 U.S.A.

Phone: 1-800-363-1992

Fax: 1-856-573-6295

email: kbjork-jones@edmundoptics.com



European Contact:

Agnes Huebscher

Director European Marketing

Edmund Optics

Zur Giesserei 8

76227 Karlsruhe, Germany

Tel.:   +49 (0)721-62737-38

Fax:   +49 (0) 721 6273750

E-Mail:   AHuebscher@edmundoptics.de

More from Agricultural & Farming Products