Murata Introduces WMRAG Series MEMS Resonator with Stable Frequency Characteristics
Press Release Summary: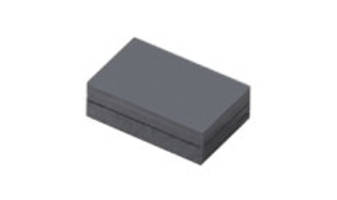 The WMRAG Series 32.768 kHz MEMS Resonator is designed for use in IoT and wearable applications. The resonator features an in-built 6.9 pf capacitor. The device can be operated in -30 to 85°C temperature range with temperature drift of <160 ppm and delivers an initial frequency accuracy of ±20 ppm. The product is offered in silicon-based wafer-level chip scale packaging with 0.9 x 0.6 x 0.3 mm (W x L x H) dimensions. It generates a stable frequency clock signals on a low ESR value of 75 kΩ.
---
Original Press Release:
Murata Develops World's Smallest 32.768 kHz MEMS Resonator
Hoofddorp, Netherlands: Murata has developed the world's smallest 32.768 kHz MEMS resonator (the WMRAG series), which is expected to make a significant contribution to reducing the size and power consumption of IoT devices and wearable devices.
Demand is growing for compact electronic components that consume less electrical power for use in digital devices for IoT and wearable applications where small size and long operating times are essential to market success. As many modern devices rely on accurate timing, there is an increasing need for low power consumption resonators, which are required to operate continuously to provide timing signals.
Based on miniature MEMS technology, the new resonators exhibit stable frequency characteristics with a temperature drift of <160 ppm across their operating range of -30 to 85 °C. Initial frequency accuracy is ±20 ppm which is at the level expected of a more sophisticated (and expensive) crystal resonator.
An in-built 6.9pf capacitor reduces the components necessary for the circuit that generates the reference clock signal, thereby reducing the space required as well as giving designers more flexibility in designing their solution.
Measuring just 0.9 x 0.6 x 0.3 mm (W x L x H), the new MEMS resonator is over 50 % smaller than a conventional 32.768 kHz crystal resonator that measures 1.2 x 1.0 x 0.3 mm. Available in silicon-based wafer-level chip scale packaging (WL-CSP), the resonator can be fully integrated into an IC made of a homogeneous semiconductor material.
The new resonator generates stable reference clock signals by reducing the IC gain based on a low ESR value of 75 kΩ. Internal tests at Murata indicate that the device cuts power consumption by 13% when compared to conventional 32,768 kHz resonators.
Mass production of the new resonator is scheduled to begin in December 2018 and devices will be showcased on the Murata booth at CEATEC JAPAN 2018, which will be held at Makuhari Messe from October 16 to 19, 2018. The product will also be on display in Hall C4 Stand 141 at electronica at Messe München from November 13 to 16, 2018.
For more information on the new resonator series please visit https://www.murata.com/en-eu/products/timingdevice/mems-r
For further information and reader enquiries:
Dunya Kamil, Murata Electronics Europe B.V., Wegalaan 2, 2132 JC, Hoofddorp, The Netherlands
Tel: +31 (0) 23 56 98 456                  E-mail: dkamil@murata.com
Fax: +31 (0) 23 56 98 361                 Web: www.murata.com
Agency contact:
Rachel Sandeman, Publitek Limited, 18 Brock Street, Bath, BA1 2LW, United Kingdom
Tel: +44 (0) 2038 136425                  E-mail: rachel.sandeman@publitek.com
Web: www.publitek.com
About Murata
Murata is a leading manufacturer of electronic components, modules, and devices. The complete range includes ceramic capacitors, resistors/thermistors, inductors/chokes, timing devices, buzzers, sensors and EMI suppression filters. Whilst the company is known as a global ceramic capacitor manufacturer, it is also a world leader in Bluetooth® & WiFi™ Modules, board-mount DC-DC converters and is a key manufacturer of standard and custom AC-DC power supplies.
Established in 1944, Murata is headquartered in Japan and has European offices in Finland, France, Germany, Hungary, Italy, the Netherlands, Spain, Switzerland and the UK.
For more information on Murata, please visit: www.murata.com. You can also follow us on Twitter @MurataEurope or LinkedIn http://www.linkedin.com/company/murata-electronics, or join us on Facebook at http://www.facebook.com/MurataElectronics.