Multiphoton Microscopes are suited for live cell, in-vivo imaging.
Press Release Summary: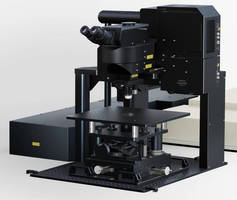 FluoView FVMPE-RS series includes multiphoton laser scanning microscopes with gantry frame and inverted microscope frames. Gantry microscope frame features stable, arch-like structure that allows space beneath objective to accommodate experiments of varied sizes. Volume of 640 x 355 x 520 mm is available if stage is removed. Inverted microscope frame is suited for observation of cells in 3D cultures, where multiple layers of cells are cultured in petri dish or similar vessel.
---
Original Press Release:

FluoView FVMPE-RS Multiphoton System - Two New Microscopes for Live Cell and In-Vivo Imaging



Olympus has announced the release of two new configurations of the FluoView FVMPE-RS multiphoton laser scanning microscope series - a Gantry microscope frame and an inverted microscope frame.



Hamburg – The flagship offering in the range of Olympus biological microscopes, the FluoView FVMPE-RS series is widely used in life science research. Its high-speed scanner allows observation of ultra-rapid biological responses, and the system can obtain vivid images from as deep as 8 mm below the tissue surface. Two new configurations now expand the FluoView FVMPE-RS series beyond the original upright frame version introduced in 2013 to offer even greater scope and flexibility for research. The new configurations also open up a wide range of observation possibilities suited to imaging a greater variety of biological specimens.



The Gantry microscope frame features an ultra-stable arch-like structure that allows considerable space beneath the objective to accommodate experiments of varied sizes. A volume of 640 mm wide, 355 mm high and 520 mm deep is available if the stage is removed, providing sufficient space for the researcher's own experimental apparatus and providing flexibility to suit different observation purposes.



The inverted microscope frame is ideal for observation of cells in three-dimensional (3D) cultures, where multiple layers of cells are cultured in a petri dish or similar vessel. Because inverted microscopes allow the researcher to observe the sample from below, this configuration is optimised for 3D-culture imaging and allows cells that have adhered to the base of the petri dish to be observed without culture fluid touching the objective.



Multiphoton imaging is a microscopy technique used in the life sciences to elucidate the role and function of proteins or nerves, and to seek out important data related to drug discovery. For example, in the case of cerebral nerves, scientists need to observe biological responses at sites far below the tissue surface, both to study the nerve mechanism and to develop therapeutic drugs or other treatments for diseases such as cancer or Alzheimer's. Relying on Olympus's renowned optical and digital technologies, the FluoView FVMPE-RS multiphoton laser scanning microscope systems meet the needs of researchers by helping them capture images and movies of rapid biological responses deep within samples.



As a direct result of researchers requesting support for a wider range of applications and specimens, Olympus has now added the Gantry microscope and inverted microscope frames to complement the original upright system. Delegates of Focus on Microscopy at Göttingen, Germany, March 29 – April 1 2015, will have a first chance to see mock-ups of the new configurations at booth 36.



Learn more about FluoView FVMPE-RS.



Please contact:



Olympus:

Ralf Schäfer (Marketing Communications Manager Microscopy)

Olympus Europa SE & Co. KG

Hamburg, GER

Tel: +49 (0) 40 23773 5913

Fax: +49 (0) 40 23773 505 913

E-mail: microscopy@olympus-europa.com

Web: www.olympus-lifescience.com



Text:

Victoria Coupe (Account Manager)

Alto Marketing,

Southampton, UK

Tel: +44 (0) 1489 557 672

Fax: +44 (0) 1489 559 246

E-mail: victoriac@alto-marketing.com

Web: www.alto-marketing.com



Olympus media contact in the USA:

Ilene Semiatin

Edge Communications Inc.

White Plains, NY 10605

1.914.684.0959

ilene@edge-comm.net

More from Communication Systems & Equipment