Multichannel Transmitter offers EtherNet/IP(TM) connectivity.
Press Release Summary: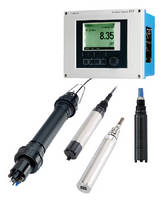 Integrating with Rockwell Automation's PlantPAx™ Process Automation System, Liquiline CM44 is suited for process monitoring in water/wastewater, chemical, and power industries. Integrated web server allows users to remotely view diagnostic data, perform configuration, or access device parameters via web browser. Available in 1–8 channel versions, 4-wire transmitter supports Memosens® digital sensors, including nitrate, SAC, pH, ORP, conductivity, dissolved oxygen, turbidity, and free-chlorine.
---
Original Press Release:

Liquiline Multichannel Transmitter Now has EtherNet/IP(TM) Connectivity



Endress+Hauser's Liquiline CM44 multiparameter transmitter with EtherNet/IP is easily configured, monitored and diagnosed by Rockwell Automation's PlantPAx™ Process Automation System



Endress+Hauser releases the Liquiline CM44x multichannel transmitter with EtherNet/IP connectivity for easy, seamless integration with Rockwell Automation PlantPAx Process Automation System.



The Liquiline CM44 multichannel transmitter can be used for process monitoring in the water, wastewater, chemical, power and other industries.



The Liquiline multichannel transmitter features an integrated web server that allows the operator to remotely view diagnostic data, perform configuration, or access device parameters via any web browser. Data can be securely accessed and maintenance functions can be performed via Endress+Hauser's FieldCare asset management system.



Thanks to Endress+Hauser's Memosens® technology, customers can now use EtherNet/IP and one CM44 transmitter to access many parameters and accept inputs down to the sensor level including sensor condition and diagnostics. They also have the ability to configure up to eight Memosens digital sensors via remote access, including nitrate, spectral absorption coefficient (SAC), pH, ORP, conductivity, dissolved oxygen, turbidity, free-chlorine and ion selective electrode sensors.



The modular four-wire transmitter is available in one to eight-channel versions and can be expanded at any time, and users can easily swap or mix and match any combination of sensors. The CM44 transmitter recognizes the sensor and will begin operating immediately without rebooting the transmitter. Memosens protocol sensors can be pre-calibrated and the sensor-specific data is stored in the sensor.



With just a few clicks, an EtherNet/IP enabled multiparameter transmitter is enabled and ready to provide critical process information to a PlantPAx control system. Total process management is now possible, because operators now have the ability to integrate, configure and commission in minutes, not hours as with other networks.



Traditionally, devices measuring and controlling process variables rely on a process instrumentation network to transfer data, while other devices within the plant work on a completely different network. By improving this complex multi-tier networking strategy with one standard network architecture – EtherNet/IP – users have better access to real-time information. This improves the ability to monitor overall performance, troubleshoot out-of-margin conditions and minimize downtime. 



The Liquiline CM44 multiparameter transmitter and all Endress+Hauser products built on the 4-wire, Liquiline platform, such as the Liquistation water sampler, are pre-engineered to integrate seamlessly with the PlantPAx process automation system, helping users simplify their network architecture, reduce deployment time,  and facilitate connectivity from the instrumentation level to the business systems level. In addition to EtherNet/IP connectivity, the multiparameter transmitter has built-in connectivity to Ethernet, Profibus, Modbus, HART and 485 networks.



Together with Memosens and the EtherNet/IP technology, interoperability is assured – opening new possibilities for process monitoring, quality assurance, lowered operational costs and safety.



For more information on the Liquiline CM44 multiparameter transmitter with EtherNet/IP connectivity, please visit: www.us.endress.com/liquiline.



About Endress+Hauser

Endress+Hauser is one of the world's leading suppliers of measuring devices, services and solutions for industrial process engineering. In 2012, the company group recorded sales of approx.2.3 billion dollars with more than 10,000 employees. Endress+Hauser supplies sensors, devices, systems and services for level, flow, pressure and temperature measure¬ment as well as liquid analysis and measured value recording. The company supports its customers with automa¬tion, logistical and IT services and solutions.



About Rockwell Automation

Rockwell Automation, Inc. (NYSE: ROK), the world's largest company dedicated to industrial automation and information, makes its customers more productive and the world more sustainable. Headquartered in Milwaukee, Wis., Rockwell Automation employs about 21,000 people serving customers in more than 80 countries.



About the Strategic Alliance

Formed in December 2004, the strategic alliance between Rockwell Automation and Endress+Hauser was established to address the challenges manufacturers face when integrating advanced instrumentation into a plantwide process control system, using Endress+Hauser's market-leading measurement devices and the Rockwell Automation integrated control and information architecture. With preferred integration between the Endress+Hauser spectrum of process instruments (including level, flow, pressure, temperature and analytical) and the Rockwell Automation plantwide control system, the alliance is committed to delivering integrated solutions for process and discrete applications.



Contact: Crystal Abrell

Market Content Development Manager

Endress+Hauser, Inc.

Phone: 317-535-1306 (office), 317-439-6426 (mobile)

Fax: 317-535-2171

crystal.abrell@us.endress.com

www.us.endress.com

More from Test & Measurement