Industrial / Specific Purpose Computers
Multi-Touch Widescreen Panel PCs serve Industry 4.0 applications.
Press Release Summary: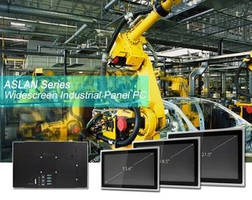 Comprising 3 models with 15.6–21.5 in., LED-backlit, PCAP touch displays, fanless ASLAN Series employs Intel® J1900 Celeron® quad-core CPU, host 4 GB memory, and suits smart factory applications. Back panel vertical I/O includes 2 RS232 and 2 RS-232/485 with auto flow control; Mini PCIe; Type-A USB 3.0 and 3 Type-A USB 2.0; 3 RJ-45 GbE LAN; and DVI-I. At 1.93 in. thin, 10.1–15.4 lb PCs have cable- and bezel-less design with IP65-rated front panels. SMA antenna holes support optional Wi-Fi®.
---
Original Press Release:

Arbor Solution Unveils Line of Stylish Multi-Touch Widescreen Panel PCs for Industrial Applications



New ASLAN Series Units Simultaneously Connect Sensors, Machines and Servers to Accelerate Processing and Optimize an Organization's Value Chain



SAN JOSE, Calif. -- Arbor Solution has added to its industrial PC lineup with the introduction of its widescreen ASLAN Series designed for Industry 4.0 smart factory applications. Each model in the new cable-less designed line comes with an Intel® J1900 Celeron Processor Quad-Core CPU, fanless cooling system, a widescreen LCD touch display with LED backlight, and an array of I/O connections for easy expandability. The new series includes three lightweight models with displays of 15.6" (ASLAN-W715C), 18.5" (ASLAN-W719C), and 21.5" (ASLAN-W722C).



"With their 16:9 widescreen aspect ratio and near bezel-less design, the fashionable ASLAN Series of industrial PCs provides far greater operating and viewing capability than traditional 4:3 displays," stated Brian Yurkiw, Arbor Solution vice president. "Equipped with three Gigabit LAN ports, ASLAN Series panels have the ability to connect facilities, collect data streams, and control the production process in accordance with current and Industry 4.0 application requirements. By taking advantage of this triple configuration, factory automation projects will see accelerated time to market, increased efficiency, cost reductions, as well as higher overall system quality."



Powerful with Room to Grow

The Arbor Solution ASLAN Series utilizes an Intel® Celeron Processor J1900 Quad-Core CPU that provides higher operating frequency, lower power consumption, and better data processing. The units come with a wide selection of vertical I/O connectors, conveniently located on the back panel, allowing for easy expansion. These include: two each RS232 and RS-232/485 serial ports with auto flow control; one Type-A USB 3.0 and three Type-A USB 2.0 ports; three RJ-45 gigabit Ethernet LAN ports; one DVI-I video connector; and two SMA antenna holes for optional Wi-Fi function.



Industry 4.0 Application

In an Industry 4.0 application, the ASLAN Series' three Gigabit LANs may simultaneously facilitate RTU (Remote Terminal Unit) connections, M2M communication between machines or factories, as well as support company intranet and cloud connections.



Vast amounts of relevant production information generated by various manufacturing sources, sensors, and communication with RTUs and/or other devices can be collected, processed and passed on to centralized production management via one LAN. A second LAN could allow the panel PC to integrate additional industrial equipment, enabling better M2M communication by means of exchanging information within buildings and remote locations. The third LAN could then be used to link servers via clouds and cloud-based applications, resulting in conclusive information for viewing and real time control.



High-Resolution Displays

Image quality is never a problem with the ASLAN Series' 16:9 widescreen flat-panel LCD displays with projected capacitive touchscreens. Both the 15.6" (ASLAN-W715C) and 18.5" (ASLAN-W719C) models offer 1366 x 768 WXGA resolution, while the 21.5" (ASLAN-W722C) boasts full high definition of 1920 x 1080. Each model includes energy-efficient LED backlighting for more accurate colors and superior image quality.



Built Tough Yet Stylish

Reliable and durable, models in the Arbor Solution ASLAN Series are built to stand up to the everyday demands encountered in an industrial application. Their front panels are IP65 compliant to withstand hazards such as dust and liquid splash, and provide complete peace of mind when mounted. Additionally, their anti-scratch surface features a 7H hardness rating. Plus, units will operate in any temperature environment ranging from -4 degrees F to 140 degrees F. Not only are the ASLAN PCs tough, they are lightweight (10.1 to 15.4 pounds) and thin (1.93") for easy handling and mounting.



Other Features

Additional features common to all models in the Arbor Solution ASLAN Series include:



--  Support for Windows, Linux, and real-time operating systems (ROTS) with pre-install option for customers

--  4GB memory

--  Easy maintenance design for CFast(TM)/HDD/SSD usage

--  Support for Mini PCI Express expansion slot

--  9~36V wide-range DC input

--  VESA and wall mounting capabilities



Availability and Pricing

The Arbor Solution ASLAN Series of widescreen industrial panel PCs is available from authorized resellers throughout the U.S. and Canada. They have MSRPs starting at $1566 (ASLAN-W715C); $1650 (ASLAN-W719C), and $1791 (ASLAN-W722C). Each model may be customized to user's preferences.



For more information about the ASLAN Series, click here.



About Arbor Solution, Inc. North America

Arbor Solution, Inc. North America provides embedded systems and rugged tablets to a variety of markets. Its expertise as an Industrial PC (IPC) provider makes it uniquely positioned to provide reliable solutions through a customer-first approach. Its products are known for their high productivity, convenience, efficiency, cost-effectiveness, and dependability. The company is at the forefront of the technology required to conduct business in challenging applications, encompassing operating environments to product size and the coding needed for specialized applications. Arbor Solution North America offices are located in the US in San Jose, CA; Florence, MA; and Flower Mound, TX; and in Canada in Ottawa, Ontario. The company is part of Taiwan-based Arbor Technology Corporation.



For more information, visit us.arborsolution.com or e-mail us at sales@arborsolution.com.



All products/services and trademarks mentioned in this release are the properties of their respective companies. ©2015 Arbor Solution, Inc. North America. All rights reserved.



CONTACT:

Nicole Fait

Tel. 714-891-3660

Arborsolution@copernio.com

More from Paints & Coatings