Multi-Spindle CNC Bar/Chucker has open front work area.
Press Release Summary: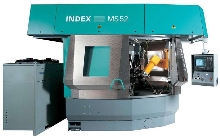 With 2 in. bar and 4 in. chuck capacities, 6-spindle MS52 features 6 independent spindle motors and 1 vertical CNC Tool Carrier. Open front design offers unrestricted chip flow and permits robot loading of all types of forgings, castings, or extrusions up to ~4 in. dia. Spindle drum incorporates 3-ring face tooth coupling mechanism for precision indexing, while 2-axis contouring and programmable feed rates aid in controlling chip flow.
---
Original Press Release:
INDEX to Demonstrate 6-Spindle CNC Bar/Chucker With Open-Front Design, Integrated Robot Loading

INDEX Corporation will demonstrate its innovative MS52 6-spindle CNC Bar/Chucker with 52mm/2-inch bar capacity and 100mm/4-inch chuck capacity machine at the Precision Machining Technology Show (PMTS) Columbus, OH, May 3-5, 2005, Booth #700. The machine on exhibit is configured as a chucker (MS52C), and is equipped with a high-speed heavy-duty Staubli robot for automated part loading and unloading.

This MS52C is ideal for medium- to high-volume production of chucked parts and is more cost-effective than single- or dual-spindle chuckers because of significantly higher productivity.

This machine is the first CNC multi-spindle chucking machine in the world with an open front work area, permitting robot loading of all types of forgings, castings or extrusions up to approximately 100mm or 4 inch diameter. A simple shuttle system or standard pallet or belt-type conveyor system may be used to bring parts to the robot loader.

The open-front design also provides exceptional ease of operation and ergonomic convenience, resulting in significant time-savings during set up and change-over as well as for tool change, according to an INDEX spokesman. It also offers unrestricted chip flow. The open-front design is made possible by the absence of the end slide tool carrier and the opposed headstock. The electrical system is relocated to the top of the machine.

The heart of the machine is the spindle drum, with the unique three-ring face tooth coupling mechanism, pioneered by INDEX, which assures the highest precision indexing of the spindle drum. Because of a high-precision manufacturing process and the face tooth coupling, the INDEX MS machines are guaranteed to have the highest turning accuracy possible in a multi-spindle machine.

Six independent spindle motors allow optimum cutting speeds for each tool and afford dramatic increases in productivity. Optimum cutting speeds in conjunction with 2-axis contouring and programmable feed rates mean that part quality and chip flow can be easily controlled. This is essential for machining tough alloy and stainless steel materials.

The CNC Tool Carrier concept is a space-saving vertical arrangement and prepared for quick change pre-settable tooling. OD, ID, or live tools may be employed in any slide position. Up to three ID tools can be mounted in a gang-style arrangement on any one of the two-axis slides, significantly extending the tool capacity of the machine.

Most spindle positions offer two-axis or four-axis machining capability. Since most slides are capable of CNC contouring, form tools are eliminated, and standard insert tools may be used in almost all positions. Using single point insert tooling offers the opportunity to optimize surface finish and chip flow.

A wide variety of live tool attachments can be mounted in any spindle position, for drill/mill operations, as well as polygon generating (even in stainless) and gear- hobbing. The optional Y axes on the slides and C axes on the main spindles extend the application range of INDEX CNC multi-spindle machines significantly to complete parts in a single set up, eliminating secondary operations.

For more information please contact:

John Wilder, North American Sales Manager, or Brenda Cooley, Sales & Marketing

INDEX Corporation

14700 North Pointe Boulevard

Noblesville, IN 46060

Phone: 317 770 6300 Fax: 317 770 3166

e-mail: sales@index-usa.com www.index-usa.com
More from Transportation Industry Products