Multi-Purpose Stripper Salvages Hooks and Racks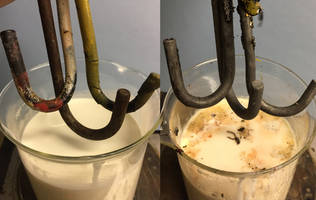 Peabody, MA (January 2017)…D-Zolve 917 from Solvent Kleene, Inc. is a fast acting immersion stripper designed to quickly remove liquid paint and powder coating build-up from steel hooks and racks with a minimum of employee involvement. This eliminates the high operating costs and the ash produced by burn-off ovens, enabling both an economical and a safe in-house coating removal process.
The immersion stripper performs at a low temperature of 135°F/57°C and offers several additional performance features. It dissolves rust, removes CARC, removes liquid coatings, strips powder coatings and can be used to remove coatings from silicone plugs. To minimize health risks, D-Zolve 917 has a low level of toxicity, is non-carcinogenic and non-flammable.
For additional cost reduction, D-Zolve 917 can be diluted by adding 25% water by volume. It is packaged in 5-gallon pails and 55-gallon drums.
For more information, or to request a free sample contact:
Solvent Kleene, Inc.
119 Foster Street Bldg #6;
Peabody, Ma 01960;
(978)531-2279,
Contact:
Tom Kutai,
(978) 531-2279