Multi-Conveyor Introduces Pet Food Conveyor with Narrow-Edge Leading Product Orientation
Press Release Summary: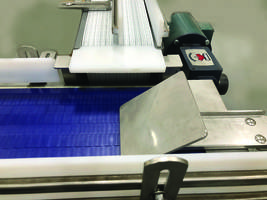 The Pet Food Conveyor is designed for individually wrapping pet food products. The unit utilizes vibration for settling and VFD's for controlling speed throughout the process. It offers a speed (singulate) of 180 to 200 parts per minute. The conveyor's vibration helps in the separation of individual pieces for single filling prior to a right angle transfer. It is equipped with a cost-effective pitch transfer plate for smooth transition.
---
Original Press Release:
Pet Food Conveyor: Bulk Product to Single File
with elementary cost-effective high-speed transition
Winneconne, WI - Multi-Conveyor (www.multi-conveyor.com) - Multi-Conveyor recently built a settling, singulation and orientation conveyor for unpackaged pet food product. We also provided a separate "wrapped, packaged product conveyor" for individually wrapped pet food products, along with a separate full case conveyor for a manual hand pack area.
This particular section of the conveyor uses gentle vibration to settle and VFD's to control speeds throughout the process. We then orientate and singulate the pet food at rates of 180 to 200 parts per minute. Note: product shown is for demonstration purposes only.
Settling or vibrating conveyors are used to gently shift product. In this case, vibration assists in separation of individual pieces for single filing prior to a right angle transfer that feeds a customer supplied wrapper.
The product orientation is narrow-edge leading when it becomes single lane. It's then transferred at a right angle to wide-side leading.
A simple, non-powered, right angle changes orientation at hi-speeds. An elementary, cost-effective pitched transfer plate was installed to ensure a smooth transition.
See even more single filing conveyor solutions by viewing our entire video gallery on our website at www.multi-conveyor.com.
About Multi-Conveyor
Multi-Conveyor is a leading manufacturer of standard and custom conveyor solutions for End-Users, Integrators, Engineering firms, OEM's and Contract Packagers across multiple markets and industries. Specializing in conveyors that assist in packaging or material handling for nearly every industry. Multi-Conveyor excels as food conveyor sanitation experts, making 3A Dairy, WDA, FDA and BISSC compliant systems on a regular basis.. Our customers report they select Multi-Conveyor for concept/design, engineering skills, quality product, best value and prompt delivery schedules.
Multi-Conveyor excels in stainless steel and mild steel construction conveyors for table top chains, modular plastic belts, and fabric belting. We also design and provide the control devices, systems and panels with our in-house control department. All of these construction designs and technologies can be found on our website at www.multi-conveyor.com.
YouTube link: https://youtu.be/B6JsqVWFsLU
CONTACT INFO for PUBLICATION:
Multi-Conveyor LLC
P O Box 10
Winneconne, WI 54986
1-800-236-7960
info@multi-conv.com
www.multi-conveyor.com
PR CONTACT NON-PUBLICATION:
cmiller@multi-conv.com