Universal Process / Temperature Controllers
Multi-Channel Controller takes simultaneous measurements.
Press Release Summary: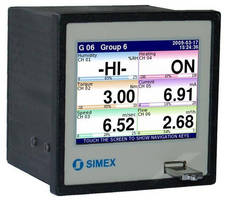 Featuring 3.5 in. backlit color TFT touchscreen display, CMC-99 suits simultaneous measurement and control in process manufacturing applications. Each of 3 card slots offer 16 I/O pin options, enabling use of up to 48 analog current or voltage inputs, up to 16 relay/SSR outputs, 24 thermocouple inputs, 12 RTD inputs, or any combination thereof. Unit also incorporates 24 Vdc digital input, enabling setup of relays and triggers, as well as various communications interfaces.
---
Original Press Release:

Controller Offers Simultaneous Measurement and Control of Multiple Channels



A new compact, multi-channel controller with touch-screen display is now available, which is ideal for the simultaneous measurement and control of a wide variety of process manufacturing applications.

The CMC-99 controller from Impress Sensors & Systems Ltd provides an incredible variety of input and output combinations to suit individual customer requirements. The three card slots on the reverse of the controller each comprise 16 I/O pin options, which enable the user to choose any combination of inputs and outputs to suit the application. For example, up to 48 analogue current or voltage inputs could be used; up to 16 relay/SSR outputs; 24 thermocouple inputs; or 12 RTD inputs; or a combination of these. The unit also incorporates a 24V DC digital input, enabling relays and triggers to be set up.

The CMC-99 is low cost compared to existing alternatives on the market and is ideal for a wide range of process applications, including centralised temperature measurement and control; multi-zone heating control; intermediate pumping station control; spraying and heating control for greenhouses; control of industrial furnaces and incinerators; and for engine test cell measurements.

Measuring just 96mm x 96mm x 100mm, the controller housing is very compact, which means the unit can be installed in restricted spaces. The controller has a 3.5-inch backlit colour TFT display and is based on the Linux operating system, with touch-screen menu navigation, offering ease of use and familiarity to the operator. A USB interface is provided on the front of the device, enabling the user to upload or download software programs quickly and easily via a USB memory stick.

PID Control
The controller is available in two power supply versions, 230V or 24V AC/DC. An auxiliary 24V DC/200mA supply output on the back of the unit enables external sensors and actuators to be connected and powered by the controller. The CMC-99 can also act as a PID process controller, providing a reliable control loop feedback mechanism for a variety of process temperature and pressure control applications.

The CMC-99 also comes with a number of communications interfaces, including two RS485 ports, two RS232, a second USB Host and an Ethernet connection, allowing the controller to integrate easily with the customer's existing process control networks and fieldbuses.

The CMC-99's integral software provides the user with archiving, printing and visualisation options. A variety of visual presentation display options for recorded measurements are available, including numerical display, bar graph or needle gauge display.

The CMC-99 is also available with a transparent, lockable door to IP42. An IP65 version is supplied with an additional fitted moulded frame.

For more information on the CMC-99 multi-controller, please call the sales department on 0118 981 7980 or visit the website at www.impress-sensors.co.uk

About Impress Sensors & Systems Ltd
Impress Sensors & Systems Ltd (www.impress-sensors.co.uk) is a rapidly expanding UK manufacturer and distributor of instrumentation products based in Aldermaston, Berkshire. The company prides itself on its expertise in pressure measurement and its knowledge of general instrumentation. The company manufactures its own range of standard and custom-designed pressure instruments in the UK, and distributes a wide portfolio of instrumentation products from its European partners - BD Sensors in Germany and Metallux in Switzerland. Impress specialises in offering a customised service in applications where standard products may not satisfy the technical requirements and price aspirations of customers. The company boasts the necessary technical expertise in mechanical, electronic and application engineering that enables it to supply instruments tailored to the customer's requirements.


More from Optics & Photonics