Mulit-Axis Drive Control Unit manages servo or vector axes.
Press Release Summary: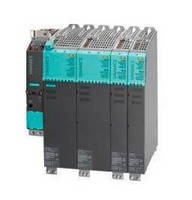 With optimized processor, Sinamics® S120 CU320-2 manages up to 6 servo or vector axes and handles positioning, safety integrated functions, and drive control charts. For standard applications, up to 12 V/Hz axes can be operated from one CU320-2 control unit. Additionally, drive control includes 12 binary inputs, controller-to-controller communications, and Ethernet port that expands programming options.
---
Original Press Release:

Second Generation Sinamics S120 Control Unit Offers More Functionality While Reducing Drive System Costs



ATLANTA - Siemens Industry, Inc. announced today the launch of the new Sinamics® S120 CU320-2 multi-axis drive control unit. The CU320-2 increases axis count and functionality, for the same price as the original control unit. Additionally, the second generation Sinamics control unit provides an Ethernet port, more I/O and controller-to-controller communication.

The Sinamics S120 CU320-2 control unit manages up to six high performance servo or vector axes per control unit. For standard applications, up to 12 V/Hz axes can be operated from one CU320-2 control unit. The enhanced processor enables increased functionality for positioning, safety integrated functions and drive control charts to be handled by one control unit, thus significantly reducing drive system costs.
The new Sinamics CU320-2 control unit also offers greater flexibility through enhanced programming options and a higher number of digital inputs. It provides a higher I/O count, with up to 12 binary inputs. To provide users with added convenience, the CU320-2 includes an Ethernet port that expands the programming options.

With the goal of delivering more functionality more economically, the Sinamics S120 CU320-2 also cuts costs for users through simplified performance licensing, fewer hardware requirements and smaller cabinet space requirements.

To learn more information about the latest generation of the Sinamics S120 control unit, click on http://www.usa.siemens.com/motioncontrol.

About Siemens:

A division of Siemens Industry, Inc., the Drive Technologies (DT) Division is the world's leading supplier of electrical and mechanical products, applications and solutions that cover the entire drive train. DT is the global leader in energy-efficient motors and drives, as well as products and services for production machinery and machine tools. Technologies include standard products, industry-specific control and drive solutions, as well as mechatronics support and online services for web-based fault management and preventive maintenance. DT provides its customers with energy-efficiency, productivity and reliability in industries as diverse as clean and renewable energy, transportation, oil and gas, utilities, metals and mining, machinery manufacturing and machine tools. With nearly 40,000 employees worldwide, the Drive Technologies Division posted worldwide revenues of $10.2 billion in fiscal year 2009. http://www.usa.siemens.com/drives

Siemens Industry, Inc. (SII) is the U.S. affiliate of Siemens' global Industry Sector business-the world's leading supplier of production, transportation and building technology solutions. The company's integrated hardware and software technologies enable comprehensive industry-specific solutions for industrial and infrastructure providers to increase their productivity, sustainability and profitability. The Industry Sector includes six divisions: Building Technologies, Industry Automation, Industry Solutions, Mobility, Drive Technologies and OSRAM SYLVANIA. With nearly 222,000 Siemens Industry Sector employees worldwide, the Industry Sector posted a worldwide profit of $2.7 billion on revenues of $47.7 billion in fiscal 2009. http://www.usa.siemens.com/Industry


More from Architectural & Civil Engineering Products