MSC Vertriebs GmbH Presents New Low Cost Brevia Development Kit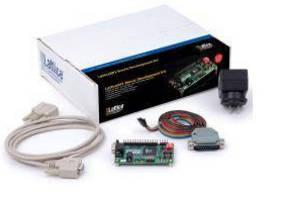 At a Promotional Price Until 30. October 2010

Lattice Semiconductor Corporation (distribution: MSC Vertriebs GmbH) launched the new versatile LatticeXP2(TM) Brevia Development Kit and 28 new silicon-proven reference designs. They are ideal suited for developing high volume, cost sensitive, high density applications. The low cost Brevia Development Kit is currently available for a promotional price until 30. October 2010.

The LatticeXP2 Brevia Development Kit features the LatticeXP2 LFXP2-5E-6TN144C device, 2 Mb SPI Flash and 1 Mb SRAM memory, expansion headers and several LEDs and user switches. Using a preloaded system-on-chip design provided with the development kit, designers can now test within minutes UART interfaces, the 8-bit LatticeMico8(TM) soft microcontroller, and peripheral controllers for SPI and SRAM.

Designers are enabled to build their own designs using the free downloadable reference design source codes, implementing these features typically in less than an hour.
In addition, the compact Brevia Development Kit can also be used for implementing elaborate microcontroller applications using the downloadable LatticeMico32(TM) soft processor.

For more information please do not hesitate to contact your local FAEs at MSC Vertriebs GmbH.

More from Sensors, Monitors & Transducers