Mounting Components are designed for small optics.
Press Release Summary: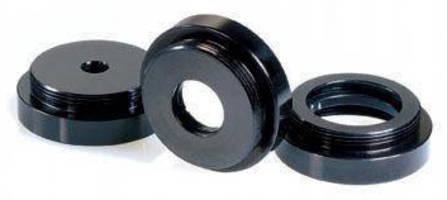 Able to integrate smaller optics ranging from 3-12.5 mm in dia, S-Mount product line is comprised of simple and achromatic lens mounts, various tubes and spacers, and various adapters, including S-to-C type. Products feature adjustable thickness and are threaded for M12 x 0.5 mm mounting, commonly used for micro-video lenses and board level camera mounts. Manufactured from anodized aluminum material, components have 12 mm ID, thread pitch of 2 threads/mm, and 16 mm OD.
---
Original Press Release:

Edmund Optics® Releases New S-Mounts for Small Optics Offering Short Working Distance for Optimal Performance



Barrington, N.J. - Edmund Optics (EO), the premier provider of optical components, introduces S-Mounts to its popular line of C&T Mounts. These eight product lines include lens mounts, tubes, spacers and S-to-C adapters to accommodate a wide variety of end uses.

Smaller footprint with adjustable thickness
The new S-Mounts are designed to integrate smaller optics ranging from 3 mm to 12.5 mm in diameter allowing for a smaller system footprint. The S-Mounts are approximately half the diameter of a C-Mount, which has an inner diameter of 25.4 mm and an outer diameter of 30 mm. Unlike C-mounts, S-mounts are not designed with a fixed thickness. Amr Khalil, Product Line Manager, Edmund Optics explained, "Taking advantage of this benefit, Edmund Optics was able to optimize the mount thickness based on optic size, hence maximizing the efficiency of an S-mount optical assembly."

Ideal for micro-video lenses and board level camera mounts
EO's S-Mounts are based on an imaging industry standard mount. The S-Mounts are threaded for M12 x 0.5 mm mounting, commonly used for micro-video lenses and board level camera mounts. Manufactured from an anodized aluminum material, specific S-Mount measurements include an inner diameter of 12 mm, a thread pitch of 2 threads/mm, and an outer diameter of 16 mm.

Eight new S-Mount product lines with fast turnaround for excellent cost savings
A wide variety of S-Mount Components have been introduced to provide cost-effective solutions for your next project. S-Mount components include simple and achromatic lens mounts as well as a variety of focus tubes accessories and adapters. S-Mount Components are in-stock and available for immediate delivery for fast turnaround with excellent cost savings.

About EO:
Edmund Optics® (EO) is a leading producer of optics, imaging, and photonics technology for R&D, electronics, semiconductor, pharmaceutical, biomedical, and military markets around the globe. EO is the world's largest supplier of off-the-shelf optical components. Customers can purchase items by contacting EO at 1-800-363-1992, via the new interactive catalog, the website at www.edmundoptics.com, or requesting their print catalog.

Company Contact:
Kirsten Bjork-Jones
Director Global Marketing Communications
Edmund Optics®, Inc.
101 East Gloucester Pike
Barrington, NJ 08007 U.S.A.
Phone: 1-800-363-1992
Fax: 1-856-573-6295
email: kbjork-jones@edmundoptics.com

Editorial Contact:
James Liolin
Lion Associates
550 Mamaroneck Avenue
Harrison, NY 10528
Phone: 914-670-0138
Fax: 914-670-0596
email: jliolin@lionadv.com

More from Electrical Equipment & Systems