Motorized Pulleys are rated to 30 hp.
Press Release Summary: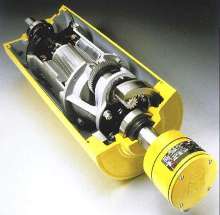 Built for belt conveyors, pulleys are designed with motor and gearbox enclosed within hermetically sealed steel shaft, making them suited for use in harsh environments. Model 220H, with 8.5 in. dia, is available rated to 7.5 hp; models 320M and 320H, both with 12.64 in. dia, are rated to 10 hp; models 400M and 400H, with 15.91 in. dia each, are rated to 20 hp; and model 500H, with 19.72 in. dia, is rated to 30 hp. Products exhibit efficiencies to 97%.
---
Original Press Release:

Rulmeca Corporation's Motorized Pulleys Pack More Power


Motorized pulley offering adds increased horsepower to existing models...

WILMINGTON, N.C. (July 2, 2004) -Rulmeca Corporation, a leading global manufacturer of motorized pulleys for bulk handling, recently added increased horsepower options to several of its existing pulleys. The pulleys, which are built specifically for belt conveyors, are designed with the motor and gearbox enclosed within a hermetically sealed steel shaft making them compact and reliable in harsh environmental conditions.

"There is an increasing need to put more power into a smaller space. Our customers have always liked the space-saving design of our motorized pulleys but requested increased horsepower within the small package to meet their tight space constraints," said Rulmeca Corporation President, Mike Gawinski.

Model 220H (8.5" diameter), previously offered with 4 HP maximum, is now available up to 7.5 HP. Models 320M and 320H (12.64" diameter) are now available up to 10 HP. Models 400M and 400H (15.91" diameter) are available up to 20 HP. Model 500H (19.72" diameter) is now available up to 30 HP.

Applications include all bulk conveyor operations. Rulmeca Motorized Pulleys usually have a higher efficiency from the electrical motor to the shell than exposed drives due to fewer frictional losses allowing efficiencies of up to 97%. Maintenance is minimal, requiring an oil change only every 10,000 operating hours or five years of single shaft operation. Being lighter than most conventional drives, Rulmeca's Motorized Pulleys can help reduce the cost of a conveyor's structure because the weight is evenly distributed within the conveyor frame.

For more information about Rulmeca Corporation, please contact Mike Gawinski at 910-794-9294; fax 910-794-9296; write RULMECA Corporation at 6740-E Netherlands Drive, Wilmington, NC 28405; or visit www.rulmecacorp.com.

Rulmeca Corporation, headquartered in Wilmington, NC was established in 2003 to serve the North American bulk materials handling industry. The Rulmeca Group manufactures motorized pulleys and conveyor idlers for mining, processing, and transporting bulk materials such as taconite ore, phosphate rock, C&D debris, granite, and limestone. Rulmeca production facilities are located in Italy, Germany, Canada, Spain, France, United Kingdom, Portugal, Venezuela, and Thailand.

Related