Servo Motor Controllers and Drives
Motor Drive has CANopen and Ethernet Powerlink interfaces.
Press Release Summary: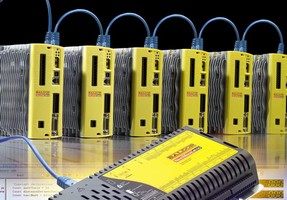 MicroFlex e100 dual-standard servo motor drive offers migration path for motion automation builders using positioning drives compatible with CANopen DSP 402 standard. CANopen DS-401 I/O management capability allows users to partition system, and CANopen interface allows upgrade of control system architecture in stages. Drive supports motion types such as electronic gearing, clutch simulation, high speed inputs for registration control, and anti-resonance digital filters.
---
Original Press Release:

Dual-Standard CANopen/Ethernet Powerlink Servo Drive Provides Elegant Migration Path for Machine Builders



Fort Smith, AR, February 15, 2006 --- A new generation of servo motor drive from Baldor Electric Company (NYSE:BEZ), with both CANopen and Ethernet Powerlink interfaces, is offering a powerful migration path for motion automation builders currently using positioning drives compatible with the CANopen DSP 402 standard.

Many machinery builders use the CANopen fieldbus standard because of its low cost per node, simple wiring, and wide product support - from 400+ vendors worldwide. The DSP 402 profile for positioning drives is often used in combination with an OEM's custom control software and hardware - an area in which many man-years of investment has often been made.

The decision of the EPSG - the group controlling the Ethernet Powerlink real-time Ethernet standard - to work with the CANopen standards body and adopt the DSP 402 profile (and the DS-301/DS-302 application layers), gives CANopen users an interesting migration path. It offers the potential to upgrade the network to a much more sophisticated and higher bandwidth standard (100Mbits/sec rather than 1Mbits/sec maximum), with minimal disruption to the way OEMs build systems and to the control software.

"Machinery builders can start to employ dual-standard DSP 402/Ethernet Powerlink drives in their equipment immediately, while they port their control system software to a new generation core and take advantage of the new Ethernet environment," says David Greensmith. "A phased changeover like this makes it easier to upgrade, allowing machine evolution to happen in predictable and manageable steps."

In addition to easing system migration to Ethernet, Baldor's MicroFlex e100 dual-standard servo drive's CANopen interface gives users the flexibility to upgrade a control system architecture in stages. In an Ethernet Powerlink system, MicroFlex e100 drives integrate an Ethernet Powerlink to CANopen gateway. The drive has CANopen DS-401 I/O management capability, so if there is no Ethernet-compatible equivalent available for an existing system function, or if CANopen-based components remain the most cost-effective choice, users are free to partition the system accordingly. For example, there can be an Ethernet Powerlink core and drives, with sub-networks of CANopen I/O modules connected to drives.

Further potential gains are possible via Baldor's inclusion of motion control features on the drive, above and beyond those supported by the standard DSP 402 modes (Homing, Profile Position, Profile Velocity, Profile Torque). MicroFlex e100 supports a range of high-level motion types that can improve equipment performance, such as electronic gearing, clutch simulation and high speed inputs for registration control and anti-resonance digital filters.

To complement the MicroFlex e100, Baldor's Ethernet Powerlink motion controller provides manager support for Ethernet Powerlink and CANopen, offering an attractive control solution to CANopen and Powerlink users alike. Called NextMove(tm) e100, it is capable of managing interpolated motion on up to 16 Ethernet Powerlink axes, and controlling many more in DSP 402 mode.

Baldor Electric Company,
P.O. Box 2400,
Fort Smith, AR 72903, USA
t: 479 646 4711;
f: 479 648 5792;
e: sales.us@baldor.com;
www.baldor.com

More from Electrical Equipment & Systems