Motor Controllers come in 45 and 90 mm wide sizes.
Press Release Summary: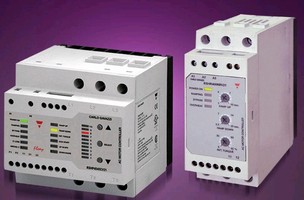 Offering motor control capacity ranging from 1.5 hp at 220 Vac to 40 hp at 600 Vac, RSHR MIDI Series, and RSHR and RSHP Flexy POWER Series soft start/stop motor controllers enable starting and stopping of 3-phase asynchronous motors with 3-wire connection. Providing up to 275 starts/hr, 45 mm wide RSHR MIDI Series controls motors up to 18 A, while 90 mm wide RSHR and RSHP Flexy POWER Series provide 50 starts/hr for control of motors up to 45 A.
---
Original Press Release:

40Hp Soft Start/Stop Motor Controllers



April 11, 2007 - Buffalo Grove, IL - Carlo Gavazzi has recently launched a new line of RSH Series soft start / stop motor controllers, available in two sizes with basic rotary or advanced push button controls. Motor control capacity ranges from 1.5HP at 220VAC to 40Hp at 600VAC.

The new Carlo Gavazzi soft start/stop enables the starting and stopping of 3-phase asynchronous motors with a simple three-wire connection to the motor. It also provides improved starting conditions over conventional star-delta starters by suppressing in-rush currents during motor starting. This is done by gradually increasing the torque from a user preset level to a 100 per cent level.

The RSHR MIDI Series is the only 45mm wide soft start/stop motor controller on the market that combines the built-in bypassing of semiconductors with low profile external heat sink for optimal performance. The RSHR MIDI is the perfect solution for applications demanding a high number of repetitive operations per hour for controlling 3-phase motors up to 18amps. RSHR MIDI leads the industry with up to 275 starts per hour. Motor ramp up and down timing and initial torque are set with rotary switches. Power on, ramping and bypass LEDs are standard. Device over temperature protections and end of the ramp auxiliary output are also available as options.

RSHR and RSHP Flexy POWER Series are 90mm wide soft start/stop motor controllers, which also combine built-in bypass with a small profile heat sink for up to 50 starts per hour. All POWER controllers include self temperature protection, phase loss and wrong sequence detection and PTC inputs. End of ramp and alarm output relays are standard on the RSHP models and optional on the RSHR. Simple rotary potentiometers are used to set ramp up/down timing and initial torque in RSHR model. The RSHP Flexy takes guesswork out of setup. It comes pre-programmed with ten profiles for various motor load types such as pump, high inertia fan or piston compressor. Ramp up / down times and shapes and initial torque can also be modified to fine tune applications. Power soft starts are can be used to control 3-phase motors up to 45A. These products are UL, cUL & CSA approved.

Typical applications for this kind of soft starter include pumps, compressors, fans, conveyors, grinders, mixers, lathes, circular saws, aerators, granulators, shredders, bucket elevators, palletizers, centrifuges, wire drawing machines, agitators, industrial dryers and washing machines, carousels, bottling machines, blowers, car wash and can-making machines.

Any questions regarding this press release should be directed to

Rafal Pabich,
Product Manager,

847.465.6100 x114,

rpabich@carlogavazzi.com

Available in the U.S. from:

CARLO GAVAZZI,
750 Hastings Lane,
Buffalo Grove, IL 60089

Phone: 847.465.6100,

Fax: 800.222.2659,
Email: sales@carlogavazzi.com

Website: www.GavazziOnline.com

More from Services