Motor Control Pre-Driver IC enables quiet low-power fan operation.
Press Release Summary: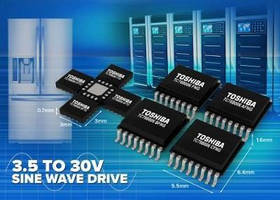 Accommodating 3.5–30 V input, TC78B006 series comprises single-phase brushless DC (BLDC) motor control pre-driver ICs available in 5.5 x 6.4 mm SSOP16 or 3 x 3 mm QFN16 package. PWM voltage and pseudo sine-wave current driving functions promote efficient and quiet cooling fan operation in data servers and home appliances, while automatic standby function reduces power consumption when fan is not in use. Additionally, IC can drive 2 external high-side Pch and 2 low-side Nch MOSFETs.
---
Original Press Release:

Toshiba Motor Control Pre-Driver IC Enables Quiet, Low-Power Operation of Cooling Fans in Data Servers and Home Appliances



Single-phase brushless DC motor pre-driver IC realizes high efficiency and low noise driving



SAN JOSE, Calif. -- Toshiba America Electronic Components, Inc. (TAEC)*, a committed leader that collaborates with technology companies to create breakthrough designs, today launched a single-phase brushless DC (BLDC) motor control pre-driver IC for use in cooling fans of data servers and home appliances, such as refrigerators and ovens. The TC78B006 series' pulse width modulation (PWM) voltage and pseudo sine-wave current driving functions allow for efficient and quiet fan operation. The TC78B006 also has an automatic standby function to reduce power consumption when the fan is not in use.



"Our customers need to be able to build systems or appliances that meet user demands for low noise and low power consumption, and we are committed to helping them achieve these objectives," said Deepak Mithani, senior director, Mixed-Signal Business Unit, System LSI Group at TAEC. "This new pre-driver IC features advanced Toshiba technology that offers improved functionality compared to our previous generation of devices, including a range of choices with respect to power supply operation, driving and detection options, and package type."



Compared to using high-performance three-phase BLDC motors with three embedded Hall sensors for fan applications, single-phase BLDC motors rely on a single Hall sensor to detect rotor position and rotation speed. This not only reduces the cost but also simplifies the motor's assembly. In addition, the TC78B006 drives four external MOSFETs, compared to six driven by its three-phase counterpart, making a single-phase BLDC motor attractive for cost-performance applications.



A pseudo sine wave driving current such as that featured in the TC78B006 is a motor driving method that achieves low vibration and low noise by changing the output voltage applied to the motor sinusoidally, according to the rotation position. The automatic standby function reduces power consumption of the entire motor chain by cutting power supplied to the Hall sensor when the motor is in the standby mode.



The new IC can be applied to high-current applications using the built-in pre-drive circuit to drive two external high-side Pch and two low-side Nch MOSFETs. Package options include SSOP16 5.5mm x 6.4mm or QFN16 3mm x 3mm. Power-supply operation for the TC78B006 series ranges from 3.5V to 30V. OEMs can select devices with PWM duty input control, analog voltage input control, rotation speed detection output, or lock detection output options, depending on their requirements.



For low-power applications, users can consider deploying the fully integrated TC78B002FTG solution.



Availability

Sample shipments of the TC78B006 pre-driver IC series are available now. The TC78B006FNG is now in mass production; the TC78B006FTG will begin mass production on February 27.



ARM and Cortex are trademarks or registered trademarks of ARM Limited in the EU and other countries.



*About TAEC

Through proven commitment, lasting relationships and advanced, reliable electronic components, Toshiba enables its customers to create market-leading designs. Toshiba is the heartbeat within product breakthroughs from OEMs, ODMs, CMs, VARs, distributors and fabless chip companies worldwide.  A committed electronic components leader, Toshiba designs and manufactures high-quality flash memory-based storage solutions, solid state drives (SSDs), hard disk drives (HDDs), solid state hybrid drives (SSHDs), discrete devices, custom SoCs/ASICs, imaging products, microcontrollers, wireless components, mobile peripheral devices, advanced materials and medical tubes that make possible today's leading smartphones, tablets, cameras, medical devices, automotive electronics, industrial applications, enterprise solutions and more.



Toshiba America Electronic Components, Inc. is an independent operating company owned by Toshiba America, Inc., a subsidiary of Toshiba Corporation, Japan's largest semiconductor manufacturer and the world's sixth largest semiconductor manufacturer (Gartner, 2014 Worldwide Semiconductor Revenue Estimates, December 2014). Founded in Tokyo in 1875, Toshiba is at the heart of a global network of over 590 consolidated companies employing over 200,000 people worldwide. Visit Toshiba's web site at www.toshiba.co.jp/index.htm.



© 2014 Toshiba America Electronic Components, Inc. All rights reserved.



Information in this press release, including product pricing and specifications, content of services and contact information, is current and believed to be accurate on the date of the announcement, but is subject to change without prior notice. Technical and application information contained here is subject to the most recent applicable Toshiba product specifications.



AGENCY CONTACT:

Lisa Gillette-Martin

MCA Public Relations

Tel.: (650) 968-8900, ext. 115

lgmartin@mcapr.com



COMPANY CONTACT:

Deborah Chalmers

Toshiba America Electronic Components, Inc.

Tel.: (408) 526-2454

deborah.chalmers@taec.toshiba.com

More from Chemicals & Gases