Motion Controller meets all relevant safety standards.
Press Release Summary: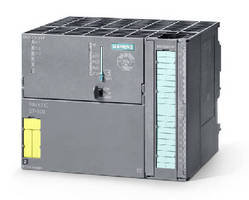 Intended for plant floor, Simatic® CPU 317TF-2DP supports applications ranging from controlled single-axis positioning to complex, synchronized sequences of motion, such as geared synchronous motion and curve synchronization. Unit accepts centralized and distributed fail-safe I/O and fail-safe drives according to PROFIsafe. Step 7 option package, supporting simultaneous processing of up to 64 technology objects, meets engineering requirements for programming and commissioning of all functions.
---
Original Press Release:

Siemens Controller Combines Motion Control, Safety and Standard Tasks in One Device



ATLANTA, - Siemens announced today the release of the new Simatic® CPU 317TF-2DP controller that combines motion control, safety and standard tasks in a single device. This device is the latest solution in its totally integrated automation portfolio that integrates and combines devices for the plant floor environment, further reducing footprints and improving overall efficiencies.

The Simatic CPU 317TF-2DP controller unites a series of important features that all go together in one device to reduce the wiring, coding and the implementation times. It also benefits users by saving space on the shop floor and reducing overall total cost of ownership.

Possible applications for the new device range from controlled single-axis positioning to complex, synchronized sequences of motion, such as geared synchronous motion, curve synchronization or print mark correction. The synchronous axes can be coupled to a virtual master or a real master. For safety-oriented applications, the controller fulfills the rigorous requirements of all the relevant standards, including EN 954-1 up to Cat. 4, IEC 62061 up to SIL 3 and EN ISO 13849-1 up to PL e.

For Siemens PLC users, the Step 7 option package S7-Technology is available to simplify engineering and commissioning. The Step 7 option package, supporting simultaneous processing of up to 64 technology objects, is available to meet engineering requirements for programming and commissioning of all functions. For specific fail-safe applications, the Step 7 option package Distributed Safety offers a set of pre-configured library blocks, including emergency stop, two-hand control, muting and door monitoring. No external safety hardware is required for costly safety precautions at the machine, saving valuable space in the control cabinet.

Centralized and distributed fail-safe I/O and fail-safe drives according to PROFIsafe, the fail-safe communication standard, can be connected to the Simatic CPU 317TF-2DP. The drive safety functions SBC, SLS, SSM, SOS, SS1, SS2 and STO according to PROFIsafe can be used in addition to the familiar safety functions.

PROFIsafe both enhances this controller's capabilities and value while further simplifying commissioning. In particular, PROFIsafe requires less wiring than other controllers available in the market, making it quicker and easier to set up while reducing the risk of errors through the commissioning process.
For more information, visit www.usa.siemens.com/motioncontrol.

About Siemens

A division of Siemens Industry, Inc., the Drive Technologies (DT) Division is the world's leading supplier of electrical and mechanical products, applications and solutions that cover the entire drive train. DT is the global leader in energy-efficient motors and drives, as well as products and services for production machinery and machine tools. Technologies include standard products, industry-specific control and drive solutions, as well as mechatronics support and online services for web-based fault management and preventive maintenance. DT provides its customers with energy-efficiency, productivity and reliability in industries as diverse as clean and renewable energy, transportation, oil and gas, utilities, metals and mining, machinery manufacturing and machine tools. With nearly 40,000 employees worldwide, the Drive Technologies Division posted worldwide revenues of $10.2 billion in fiscal year 2009. http://www.usa.siemens.com/drives

Siemens Industry, Inc. (SII) is the U.S. affiliate of Siemens' global Industry Sector business-the world's leading supplier of production, transportation and building technology solutions. The company's integrated hardware and software technologies enable comprehensive industry-specific solutions for industrial and infrastructure providers to increase their productivity, sustainability and profitability. The Industry Sector includes six divisions: Building Technologies, Industry Automation, Industry Solutions, Mobility, Drive Technologies and OSRAM SYLVANIA. With nearly 222,000 Siemens Industry Sector employees worldwide, the Industry Sector posted a worldwide profit of $2.7 billion on revenues of $47.7 billion in fiscal 2009. http://www.usa.siemens.com/Industry

More from Fluid & Gas Flow Equipment