Motion Control System has standard NEMA 23 frame dimensions.
Press Release Summary: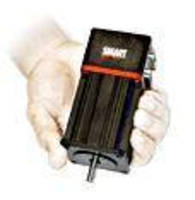 Suitable for OEM applications, compact SmartMotor(TM) model SM2337DT incorporates servo motor, amplifier, and motion controller into same integral frame. It delivers up to 200 oz-in. of peak torque while maintaining as much as 60 oz-in. of continuous torque.
---
Original Press Release:

Introducing High Torque SM2337DT



Animatics Corporation, designers and manufacturers of highly innovative motion control products, announces the latest release in their OEM Series of SmartMotors, the SM2337DT. The OEM Series SmartMotor(TM) is a complete motion control system that is compact, user friendly, and cost effective. Using a patented design, SmartMotors incorporate a Servo Motor, Amplifier, and Motion Controller into the same integral frame.

Similar to other members of the OEM Series of SmartMotors, SM2337DT is unique by virtue of its extreme low cost and high continuous and peak output torques. It delivers as much as 200 oz-in of peak torque while maintaining as much as 60 oz-in of continuous torque. The entire line of OEM Series SmartMotor's(TM) is priced competitively for high quantity, OEM applications. Featuring standard NEMA 23 frame dimensions, the SM2337DT will meet unique customer requirements with a very familiar package.

Animatics Corporation has been designing, manufacturing, and marketing motion control products for 14 years. The industries we address are limitless, ranging from the semiconductor, nuclear, and automobile, to the machine tool industry. The OEM Series of SmartMotors is equipped with all of the same features as the traditional SmartMotor(TM) line, including the ability to accept G-Code commands when used in conjunction with Animatics P.C. Resident SMNC(TM) (SmartMotor Numeric Control(TM)) software. The SMNC software turns virtually any P.C. or Lap Top computer and two or more SmartMotors into a complete CNC control system for the operation of Milling machines, Lathes, Laser Cutting equipment, Water Jet Cutting equipment as well as many other machines used in the fabrication industry. It does all of this without a control cabinet and at a system cost that is less than the cost of an average CNC service call.

Animatics is Defining the Future in Motion Control!

Animatics Corporation,

3200 Patrick Henry Drive,

Santa Clara, CA 95054

Tel: 408-748-8721

Fax 408-748-8725

Email: service@animatics.com

Contact Information:

Punita Pandit

Tel: 408.748.8721 x322

E-mail: ppandit@animatics.com

More from Software