Monolithic Dual N-Ch JFET supports low noise applications.
Press Release Summary: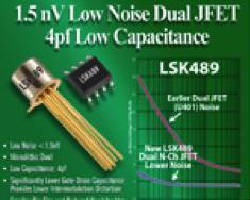 Available in surface mount SOIC-8, through-hole TO-71, and smaller SOT23-6 packages as well as ROHS compliant versions, Model LSK489 features ultra low noise of 1.5 nV at 1 KHz and gate-to-drain capacitance of 4 pF. Design consists of interleaving both JFETs on same piece of silicon to provide optimal matching and thermal tracking, with nearly zero popcorn noise. Applications include microphone amplifiers, phono preamplifiers, operational amplifiers, sonic imaging, and high-speed comparators.
---
Original Press Release:

Linear Integrated Systems Announces the Availability of the LSK 489 Low-Noise, Low-Capacitance Dual N-Ch JFET



Designed for All (Audio & Non Audio) Low Noise Applications



FREMONT, CALIFORNIA – Linear Integrated Systems, a leading full-service manufacturer of specialty linear semiconductors, announces the immediate availability of its LSK489 1.5 nV at 1K hz, low-capacitance, N-Channel Monolithic Dual JFET.  This is part of a family of ultra-low-noise dual JFETs was specifically designed to provide users better-performing, less-time-consuming, and cheaper solutions for obtaining tighter IDSS matching, and better thermal tracking than matching individual JFETs.



Available packaged in surface mount and ROHS compliant versions, the LSK489 is an ideal improved functional replacement for the similar JFETs that have much inferior noise characteristics and gate-to-drain capacitance, within space-limited circuits for audio and instrumentation applications. "The LSK489 provides a dramatic increase in capabilities for a wide range of low-noise applications," Linear Systems President and CEO John H. Hall said.  "Designers who were able to build low-noise circuits with our LSK389 will be impressed with what the LSK489 will be able to do for them."



The most significant aspect of the LSK489 is how it combines a noise level nearly as low as the LSK389 while having much lower gate-to-drain capacitance, 4pF versus the 25pF, Hall said.  While the LSK389 provides ultra-low noise of less than a 1nV at 1k, the capacitance is high enough to cause designers to have to use a cascode feature to handle higher bandwidths without intermodulation distortion.



"The slightly higher noise of the LSK489, versus the LSK389 (0.5 nano volts), is not significant in most instances, while the much lower capacitance enables designers to produce simpler, more elegant circuit designs with fewer devices that cost less in production," Hall said. "Though the cascode is an effective technique for compensating for some undesirable transistor characteristics, the downside of using it is in higher circuit noise.  In a cascode configuration, the noise of each transistor is combined. The LSK489's lower capacitance obviates the need for a cascode configuration in most circuit designs."



Like the Linear Systems LSK389, the LSK489 features a unique design construction of interleaving both JFETs on the same piece of silicon to provide excellent matching and thermal tracking, as well a low-noise profile having nearly zero popcorn noise.



The LSK489 is available in surface-mount SOIC-8, thru-hole TO-71 packages and smaller SOT23-6 packages.  Lead-Free, ROHS compliant versions are available. Linear Integrated Systems' domestic factory stock guarantees short lead times, ensuring no disruption in production schedules.



Summary of Features:

Low Noise (typically 1.5 nv/hz @ 1khz)

Nearly Zero Popcorn Noise

IDSS matching to 10% max

Low Offset/Tight Matching (|Vgs1- Vgs2| = 20mV max)

Low Capacitance (CISS=4 pf)

High Input Impedance

High Breakdown Voltage (BVGSS = 40V Min)

Low noise, reduced device count alternative for the classic (2) Dual JFET Cascode Configuration

Improved replacement for Siliconix U401 series and the Linear Systems 844 series

Surface mount SOIC versions and the smaller SOT23-6 package

Lead-Free ROHS Compliant versions available



Applications:

Microphone amplifiers; phono preamplifiers; audio amplifiers and preamps; discrete low-noise operational amplifiers; battery-operated audio preamps; audio mixer consoles; acoustic sensors; sonic imaging; and instrumentation amplifiers; wideband differential amplifiers; high speed comparators; impedance converters



Price: US$5.38 each (1,000 pcs.)

Availability: Sampling now in SOIC-8, TO-71 and SOT23-6  package options

Delivery: Factory Stock



FOR INFORMATION CONTACT:

Linear Integrated Systems for assistance with application or special testing issues.

Toll Free: 800-359-4023     Phone: 510-490-9160         Fax: 510-353-0261



FOR INFORMATION CONTACT

Paul Norton, Marketing Director

Linear Integrated Systems, Inc.

510-490-9160

paul_norton@linearsystems.com

More from Software