Monitoring Service Platform suits machine tool industry.
Press Release Summary: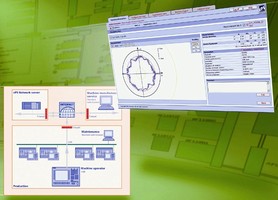 Internet-based ePS Network Services supports maintenance processes while simultaneously forming platform for cross-company service and support between OEMs and machine operators. Service provides detailed information for localization of machine faults and can send service personnel notifications by email or text message if fault occurs. Direct connection to Internet with web browser allows data to be analyzed via servers as well as remote machine control.
---
Original Press Release:


Siemens Introduces the Next Generation of Services for the U.S. Machine Tool Market




CHICAGO, August 11, 2005 - ePS Network Services from Siemens is offering the machine tool market powerful IT infrastructures and service packages that build on each other to provide simpler, safer and more efficient methods for performing service and maintenance.

ePS Network Services is an Internet-based service from Siemens that supports maintenance processes while simultaneously forming a platform for cross-company service and support between OEMs and machine operators.

Any machine tool equipped with Siemens SINUMERIK 810D, 840D or 840Di CNCs, along with the Siemens PCU 50 industrial PC, Internet access and a standard web browser, can operate within this system.

By using ePS Network Services, customers will have detailed information much faster for the localization of machine faults, thus allowing for a faster analysis without needing direct access to the machine or influencing the production process. Service personnel can be notified by e-mail or text message, should a fault occur. A direct connection to the Internet with a web browser will allow data to be analyzed via the servers and even allow remote machine control.

Unplanned downtimes and maintenance costs are reduced when ePS is used for preventative maintenance. Standardized testing procedures can help machine operators and maintenance technicians to quickly determine a machine's condition. Continuous evaluation of the machine tool also makes it possible to identify trends and plan measures in advance.

Data security is guaranteed by restricting data to the servers that ePS provides and, in turn, are protected by firewall and virus scanners. Communication is only established from the machine and/or the PC server to the ePS servers and is protected from unauthorized access by 128-bit SSL encoding.

Please forward all inquiries to:
Siemens
Machine Tool Business Unit
390 Kent Avenue
Elk Grove Village, IL 60007
Attn: Marketing/Communications

For product information and inquiries, call (800) 879-8079 ext. Sales Central or e-mail
[email protected]

Visit our home page at: www.SiemensCNC.com

Siemens AG (NYSE:SI) is one of the largest global electronics and engineering companies with reported worldwide sales of $91.5 billion in fiscal 2004. Founded more than 155 years ago, the company is a leader in the areas of Medical, Power, Automation and Control, Transportation, Information and Communications, Lighting, Building Technologies, Water Technologies and Services and Home Appliances. With its U.S. corporate headquarters in New York City, Siemens in the USA has sales of $16.6 billion and employs 70,000 people throughout all 50 states and Puerto Rico. Thirteen of Siemens' worldwide businesses are based in the United States. With its global headquarters in Munich, Siemens AG and its subsidiaries employ 440,000 people in 190 countries. For more information on Siemens in the United States: www.usa.siemens.com.

Siemens Energy & Automation Inc. is one of Siemens' operating companies in the U.S. Headquartered in the Atlanta suburb of Alpharetta, Ga., Siemens Energy & Automation manufactures and markets one of the world's broadest ranges of electrical and electronic products, systems and services to industrial and construction market customers. Its technologies range from circuit protection and energy management systems to process control, industrial software and totally integrated automation solutions. The company also has expertise in systems integration, technical services and turnkey industrial systems. For more information: www.sea.siemens.com.