Molded Pipe/Tube Ends offer alternative to barb-style fittings.
Press Release Summary: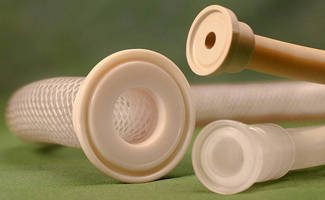 Injection molded from USP (United States Pharmacopoeia) Class VI Hytrel® or polypropylene, Overmolded Tri-Clamp® Ends feature thermally mated materials without any leachable adhesives. Tri-Clamp or Mini Tri-Clamp styles are available for PVC, TPE, and TPR tubing and hose in pharmaceutical, medical, surgical, food, beverage, and dairy applications. Transition from tubing to Tri-Clamp minimizes bacteria entrapment situations, promoting clean connection.
---
Original Press Release:

Overmolded Tri-Clamp® Ends from AdvantaPure® Reduce Risks Associated with Barb-Style Fittings



Provides An Alternative to Silicone

Southampton, Pa. - An option for sanitary connections is now available from AdvantaPure . . . Overmolded Tri-Clamp Ends for PVC, TPE, and TPR tubing and hose. Typically less costly than silicone counterparts, Overmolded Tri-Clamp Ends are a viable alternative for pharmaceutical, medical, surgical, food, beverage, and dairy applications.

Injection molded from USP (United States Pharmacopoeia) Class VI Hytrel® or polypropylene, Overmolded Tri-Clamp Ends are available in Tri-Clamp or Mini Tri-Clamp styles. The smooth transition from tubing to Tri-Clamp greatly reduces bacteria entrapment situations associated with barb-type fittings and results in a cleaner connection. The materials are mated thermally-no leachable adhesives are involved.

Other advantages of Overmolded Tri-Clamp Ends include:


Certified animal-derived ingredient free

Provides a sanitary connection for thermoplastic tubing and hose

Excellent component for single-use applications

Sizes from Mini through 1-1/2" Tri-Clamp

Easily cleaned and sterilized

Made-to-order assemblies

Documented quality control

Overmolded Tri-Clamp Ends are available in Hytrel molded directly to flexible or rigid PVC and in polypropylene molded to TPR (thermoplastic rubber) or TPE (thermoplastic elastomer) such as AdvantaFlex®. Molded silicone assemblies are also available, along with a variety of single use process components.

For more information on AdvantaPure's Overmolded Tri-Clamp Ends, contact the AdvantaPure team at 145 James Way, Southampton, PA 18966; phone 888-755-4370 or 215-526-2151; fax 888-258-4293 or 215-526-2167; e-mail: sales@advantapure.com; website: advantapure.com; product-specific web page: http://www.advantapure.com/fittings/overmolded-TriClamp-ends.htm

About AdvantaPure and NewAge® Industries

The AdvantaPure division of NewAge Industries is ISO 9001:2008 certified and specializes in high purity tubing, hose, single use systems, manifolds, and other molded components for the pharmaceutical, biomedical, food, beverage, and chemical industries. All products are manufactured, stored, and shipped using the cleanest methods possible to ensure unsurpassed product purity. RFID systems, including gamma-irradiatable styles, are offered as well.

In business since 1954, NewAge Industries manufactures and fabricates thermoplastic and thermoset tubing in both reinforced and unreinforced styles. The company offers one of the broadest product lines of tubing and fittings in the U.S., provides extensive custom extrusion and fabrication capabilities, and services customers worldwide. NewAge Industries maintains a large inventory and prides itself on same-day shipment of 98% of orders for its core product lines. In 2006, NewAge initiated an ESOP (Employee Stock Ownership Plan) for the benefit of both its employees and customers.

AdvantaFlex®, NewAge Industries AdvantaPure®, and NewAge® are registered trademarks of NewAge® Industries, Inc.

Tri-Clamp® is a registered trademark of the Ladish Company, Tri-Clover Division

More from Thermal & Heating Equipment