Mold Release Agent prevents in-mold gloss build-up.
Press Release Summary: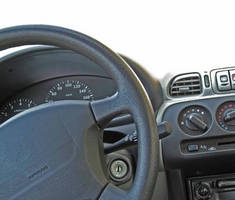 Release Coating 7772 is water-based release agent that prevents mold build-up from triggering increase of gloss in within-mold painted polyurethane systems. Agent provides smooth, defect-free parts and allows gloss quality to be maintained with less frequent cleaning. Painted parts have consistent, defect-free appearance with dry, nontacky feel, and are resistant to scuff and mar. Typical applications include automotive steering wheels, handles, and interior trim components.
---
Original Press Release:

Water Based Release Agent Controls Gloss Range with In-Mold Painted Urethane Systems



Huron Technologies, Inc. announces a new technology development that prevents mold build up from triggering the usual increase in gloss that occur within-mold painted polyurethane applications. According to Huron's President/Director of Product Development, Clarke Borgeson, "This breakthrough in molding technology would be expected to increase the number of parts which can be made before the molds must be cleaned. The specified gloss quality can be maintained with less frequent cleaning." In addition, Borgeson commented that this new Release Agent 7772 is an adjustment to existing technology. Reduced cleaning requirements cut manufacturing costs.

Release Coating 7772 provides smooth, defect free parts which replicate precisely the fine surface detail of the mold. The in-mold painted parts have a consistent, defect free, appearance with a dry, non-tacky feel and excellent resistance to scuff and mar. Typical applications include automotive steering wheels, handles and interior trim components as well as office furniture components.

This product is available in 5 gallon containers and 55 gallon drums. Huron Technologies, Inc. provides standard and custom formulated release coatings for a wide range of molding applications.

For more information contact:

Huron Technologies, Inc. 415 Industrial Drive, Leslie, MI 49251

Phone: 517-589-0300, Toll free: 800-275-4902, Fax 517-589-0390

Website: hurontech.com; email: info@hurontech.com

More from Test & Measurement