Modular Punch Assemblies feature one-piece design.
Press Release Summary: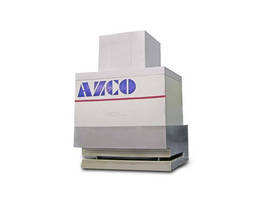 Featuring punch-and-die design to make custom-shaped cut-outs, Modular Punch Assemblies can punch holes in flexible materials such as films, foils, paper, nonwovens, hose, tubing, tape, foam, rubber, mesh, laminates, and medical devices. Units are also capable of creating virtually invisible micro punches. Available in pneumatic or electric configurations, punch units use hardened-steel tooling and can be mounted in any position.
---
Original Press Release:

Do You Have a Punch Application? AZCO Corp. Provides Custom Solutions



Fairfield, NJ – AZCO Corp. introduces their latest design in a one piece modular punch assembly.  These units have a punch-and-die design to make custom-shaped cut-outs. Applications include punching holes in flexible materials such as films, foils, paper, nonwovens, hose, tubing, tape, foam, rubber, mesh, laminates, and medical devices.  Optional features include custom shapes, single or multiple tooling, and sensors. 



In addition to punching out holes or shapes, the units are capable of creating virtually invisible micro punches   Unsightly holes in packaged bags are eliminated, allowing for a variety of display options without compromising the product's package integrity or aesthetic quality.  



Available in pneumatic or electric configurations, the punch units use hardened-steel tooling that is clean-cutting and fast-acting. The assembly can be mounted in any orientation, so you can add it to any converting, processing, or assembly line in any way you see fit!   Just bolt it on! 



AZCO Corp. has over 30 years experience developing solutions for a wide range of feeding and cutting applications.  They offer cutting edge, field proven systems and components that are easily adapted to meet the needs of the most complex applications.  AZCO Corp. will provide the most efficient and cost effective solution for you.



For more information, contact:

Andrew Zucaro

President

AZCO Corp.

26 Just Road

Fairfield, NJ 07004                                

Phone:  973-439-1428

Fax:  973-439-9411

cs@azcocorp.com

www.azcocorp.com