Modular Light Engines utilize LEDs and fiber optic panels.
Press Release Summary: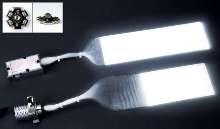 LED Light Engines combine one or more high-brightness LEDs with Lumitex® woven or UniGlo® fiber optic panel to spread light source over wide, flat area. Collimating lens captures and focuses light from LED(s) to fiber optic panel. Encased in aluminum housing, assembly achieves typical brightness of 100 Ft-L or more for 3 x 5 in. fiber optic panel illuminated by one LED. Luxeon® LEDs provide complete control over what color light source produces.
---
Original Press Release:

New Light Engines from Lumitex Use Advanced High-Power LEDs With Fiber Optic Panels To Dramatically Increase Brightness


Strongsville, OH, December 2004 - Lumitex, the leader in fiber optic illumination technology, has developed a new, modular Light Engine utilizing the latest advances in LED technology for designers who want to spread light from a single light source over a wide, flat area.

"Lumitex's fiber optic illumination technology is uniquely suited to take advantage of the new high-bright, ultra-compact LEDs like the Luxeon® III Star or Luxeon® V to offer a really bright user interface device for our customers," said Brian Spahnie, R&D Engineer at Lumitex. "Customers for this new Light Engine are companies who want something special to distinguish their product in the marketplace."

The Lumitex LED Light Engines combine one or more of these high-power LEDs with a Lumitex® woven or UniGlo® fiber optic panel. A special collimating lens captures, then focuses the light from the LEDs to the fiber optic panel. Encased in an aluminum housing that acts as a heat sink, the assembly provides significantly increased panel brightness - as much as 20 X to 50 X brighter - by driving these high-power LEDs at a higher current through more efficient heat management.

Typical brightnesses that can be routinely achieved with this new light engine are 100 Ft-L or more for a 3" x 5" fiber optic panel illuminated by a single high-brightness LED. "Brightness will vary according to the particular application and the number of LEDs being used," said Spahnie. "But that's a pretty impressive benchmark to provide some idea of how bright these panels are. Designers who didn't think Lumitex panels were bright enough for their application will want to have a look at this." Also, the Lumitex Light Engines utilizing the new Luxeon® LEDs provide complete control over what color the light source produces, eliminating the color shift that can be a problem with incandescents. And, unlike systems using CCFL light sources, they require no warm-up and are not sensitive to shock and vibration.

Lumitex's new Light Engines offer a very attractive alternative to halogens, incandescents, light arrays and CCFLs for a variety of applications, according to the company. Applications include touch screens (ATMs, POS displays, advertising kiosks and process control equipment), medical (MRI illumination), LCD backlighting, machine vision (CCD cameras), a range of membrane switch applications, and a wide variety of specialty applications such as high-end salon and spa equipment.

"This is not a solution for everyone," noted Spahnie. "The LED light sources used here cost more than the traditional LEDs many people are used to. But for companies who want the performance offered by the premier LEDs on the market, and a system that allows them to use these LEDs as efficiently as possible to make their product really stand out, this is an excellent solution. Using fiber optic panels as the display vehicle for these powerful LEDs has proved to be very effective, and products featuring these light sources are sure to be noticed."

Pricing for a Lumitex's Light Engine with a single Luxeon® III Star light source illuminating a 3"x5" panel is approximately $10-$50 in OEM quantities. Pricing varies with application and the number of light sources used and number of Light Engines required. Contact Lumitex for details.

For more information, contact Lumitex, Inc., 8443 Dow Circle, Strongsville, OH 44136.
Tel: 1-800-969-5483; 440-243-8401; Fax: 440-243-8402; E-Mail: info@lumitex.com.
Web: www.lumitex.com.

(Luxeon® is a trademark of Lumileds Lighting U.S., LLC)

More from Electrical Equipment & Systems