Modular Inverted Microscope targets industrial applications.
Press Release Summary: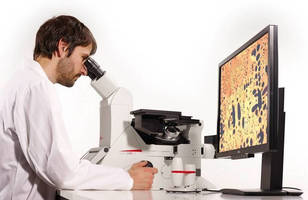 Upgradeable as needed, Leica DMi8 accelerates workflow via sample placement and changeover processes. Stage carries up to 30 kg, and location of optics below stage enables large sample sizes to be accommodated; sample height is not restricted. Once focused on stage, sample remains in focus throughout all different magnifications as well as while similar samples are imaged. Features also include step-by-step analysis guidance and macro objective that offers 35 mm field of view.
---
Original Press Release:

Leica Microsystems Launches Inverted Microscope for Industrial Applications



Versatility, Upgradability, and Faster Workflow with the Leica DMi8 Platform



Wetzlar, Germany – Leica Microsystems introduces the modular Leica DMi8 inverted microscope platform for industrial applications. Inverted microscopes are used for metallography, quality assurance in medical device or microelectronics manufacturing, a wide range of inspection tasks in the automotive and aviation industries as well as materials science. The Leica DMi8 makes it possible for users to configure a basic microscope system now, and upgrade later as needs and applications change. In addition, users can speed up their workflow, because working with an inverted microscope makes sample placement and change between samples faster than in upright microscopy. They can also image large and heavy samples more easily. Additionally, the Leica Application Suite (LAS) software guides novice and expert users through the analysis step by step.



"The Leica DMi8 offers our industrial customers opportunities to speed up workflow," explains Kay Scheffler, Leica Microsystems Product Manager. "Inverted microscopes are increasingly used for industrial applications because of the efficiency they add to a workflow: easy sample changeover, less steps required to prepare and image a sample, and less training time. The modularity and excellent optical quality of the Leica DMi8 enables users to analyze samples with precision and accuracy, while leaving the option to upgrade open." 



The microscope's optics are located below the stage, which offers the advantage of accommodating large sample sizes. The stage carries up to 30 kg in weight and sample height is not restricted. Even very large samples can be swapped and imaged in fewer steps than an upright microscope would require for the same task. Once a sample is focused on the stage, it will remain in focus throughout all different magnifications and also while samples of the same nature are imaged.



Leica Microsystems' exclusive macro objective for the Leica DMi8 offer a field of view of 35 mm. This is four times more than a standard objective. To see even more details of the sample surface in high contrast, users can also use the new Ultra Contrast 3D Illumination, another Leica Microsystems exclusive technology.



Sample preparation for the inverted microscope is less time-consuming as compared to upright microscopes. Cutting or embedding a sample is not necessary, and only one side of the sample needs to be prepared. Users can save time and increase sample throughput, making work more efficient.



With the Leica DMi8, the risk of the microscope`s objective colliding with a sample is also diminished. The sample is protected, because the objectives are positioned below the stage, and because a function defines the upper limit of the nosepiece.



Note: Please note that the macro objective is not available in Japan.



For more information on the product please visit: http://www.leica-microsystems.com/products/light-microscopes/industrial-materials/inverted-microscopes/details/product/leica-dmi8-id/

For FAQ please visit: http://www.leica-microsystems.com/products/light-microscopes/industrial-materials/inverted-microscopes/details/product/leica-dmi8-id/faq/

Science Lab Article "Five Advantages of Inverted Over Upright Microscopes in Industrial Applications": http://www.leica-microsystems.com/science-lab/quality-assurance/five-advantages-of-inverted-over-upright-microscopes-in-industrial-applications/



About Leica Microsystems

Leica Microsystems develops and manufactures microscopes and scientific instruments for the analysis of microstructures and nanostructures. Ever since the company started as a family business in the nineteenth century, its instruments have been widely recognized for their optical precision and innovative technology. It is one of the market leaders in compound and stereo microscopy, digital microscopy, confocal laser scanning microscopy with related imaging systems, electron microscopy sample preparation, and surgical microscopes.



Leica Microsystems has seven major plants and product development sites around the world. The company is represented in over 100 countries, has sales and service organizations in 20 countries, and an international network of distribution partners. Its headquarters are located in Wetzlar, Germany.

More from Cleaning Products & Equipment