Modular Ejector System offers maintenance-free operation.
Press Release Summary: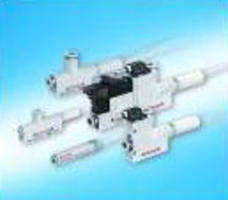 Compact EBS-PT, inline EBS-PI, and electrically operated EBS-ET series work according to Venturi principle for single-stage vacuum ejectors. Offering accelerated and flexible integration, products offer wear-free operation due to solid-state design. Series EBS-PT/ET are available in 6 performance levels with push-in fitting or thread connection, while EBS-PI is available in 2 performance levels with compressed air and vacuum connections oriented in straight line.
---
Original Press Release:

New Modular Ejector System from Rexroth - ATX West 2009



The ejectors in the Rexroth EBS series: strong vacuum pressure, high vacuum flow capacity

New vacuum generator program from Rexroth is making waves in the pneumatics sector. Compact and small basic and inline ejectors in the newly designed EBS vacuum generator series optimally complete the Rexroth pneumatics spectrum.

(Lexington, KY - www.boschrexroth-us.com/brp) The three new versions in the EBS series - the EBS-PT compact basic ejector the small EBS-PI inline ejector, and the electrically-operated EBS-ET - are optimized for various applications. All types work according to the Venturi principle for single-stage vacuum ejectors and generate a strong vacuum while allowing a simultaneous high vacuum flow capacity. All EBS ejectors are real light-weights that can be integrated quickly and flexibly.

The ejectors are wear and maintenance-free, since they contain no moving parts. Fine-tuned performance levels enable optimal adjustment to the requirements, making it possible to attain maximum efficiency. Thanks to their low weight, the ejectors can be mounted close to the suction cups, enabling short evacuation times and reducing air consumption to a minimum.

The EBS series is available in three versions: EBS-PT, EBS-ET and EBS-PI. All are ideally suited for use in the electronics and packaging industries, as well as other automation applications. The larger EBS-PT version is particularly suitable for sectors such as the automotive industry, paper industry, wood working industry, or sheet metal processing industry, whereas the smaller EBS-PI has been optimized for handling tasks.

The Rexroth EBS-PT/ET series are available in 6 performance levels with either a push-in fitting or thread connection (ISO-G BSPP or NPTF). Thanks to all these features, they provide numerous integration options for the most varied applications. Vacuum generator mounting can be done either directly via bolt holes in the housing or flexibly by mounting it on a clip-on strip. The latter option enables quick and easy modular assembly of various ejector sizes on one strip.

The Rexroth EBS-PI is the simplest of the new vacuum generator series. This ejector is available in two performance levels. The compressed air and vacuum connections are oriented in a straight line, so the ejector can be directly integrated in the hose line; the exhaust is guided out via side openings. All this is made possible by the special design of the EBS-PI.

Bosch Rexroth AG, part of the Bosch Group, achieved sales of approximately $7.4 billion (5.4 billion Euros) in 2007 with nearly 33,000 employees. Under the brand name of Rexroth the company offers all drive and control technologies, from mechanics, hydraulics and pneumatics to electronics and associated service. Over 500,000 customers worldwide utilize Rexroth's unique technological know-how to implement their innovative and future-oriented systems and machine concepts. The global player, represented in over 80 countries, is an extensive supplier of components and systems for industrial and factory automation and mobile applications. Visit www.boschrexroth-us.com for more information.

For more information, please contact

Bosch Rexroth Corporation
Janeen Boone
1953 Mercer Road
Lexington, KY 40511-1021
Telephone (859) 259-3852
Fax (859) 281-3491
janeen.boone@boschrexroth-us.com

Godfrey Public Relations
Todd Walter
40 North Christian Street
Lancaster, PA 17602
Telephone (717) 393-3831 ext. 133
Fax (717) 393-1403
twalter@godfrey.com

More from Electronic Components & Devices