Modular Cubings and Master Cubes for holding vehicle models.
Press Release Summary: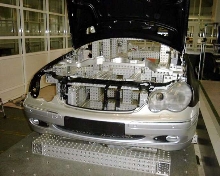 Alufix modular fixturing system enables users to custom-build basic structures of cubings, master cubes, and match metal fixtures. Made of Alufix profiles, products can be changed at any time to adapt to changing circumstances. Due to modular nature, Alufix aluminum fixtures can be built in any size, while continuous grid remains same in all three coordinates. Grid bores have H7 tolerance, and distance between bores lies at ±0.01 mm for problem-free connection.
---
Original Press Release:
Modular Cubings and Master Cubes for Holding Vehicle Models

The automobile industry uses cubings, master cubes and match metal fixtures for assessment of fitting accuracy of single parts and assemblies. The basic structures of these fixtures, which are used for applications from the model stage through to series production, can now be custom built with the help of Alufix modular fixturing system from Witte L.P., Tucker, GA.

During the process from model to series production match metal fixtures are used for instance to assess how the single parts of a vehicle fit together. With the help of a master cube workpiece groups or assemblies in vehicle line can be fixed to a basic frame and assessed. In order to compare sheetmetal and model parts, cubings are used. Possible deviations can be ascertained on model parts or original parts.

Master cubes and cubings can also be used all along the process.

A model is considered ready for production when all problems during setup and assembly have been eliminated. Conventional cast fixtures require long manufacturing times, allow few possibilities for alterations and can only be used for a certain model type. Also master cubes made of conventional aluminum extruded profiles are not flexible and again can only be used for a certain model.

However, cubings and master cubes made of Alufix profiles can be changed at any time. Short term model modifications during series production optimization are continuously taking place. With the Alufix modular fixturing system, the basic structures and fixtures can be adapted to changing circumstances anytime, anywhere quickly. This means considerable savings in cost and time.

When a model change occurs single components can simply be added on or exchanged.

Alufix fixtures can also be used for extremely large-surface workpieces due to the fact that the fixtures can be disassembled and accurately rebuilt. Assembly and checking fixtures in the aerospace industry require considerable space for storing fixtures. Fixtures designed and documented using Alufix Expert and CATIA can be disassembled and rebuilt quickly and accurately using the documentation and user manual. The outer dimensions of profiles and base plates are always a multiple of the grid dimension. Alufix fixtures can be built in any size because of the modularity. The continuous grid remains the same in all three coordinates.

These extremely flexible fixtures made of high-tensile aluminum are characterized by lightweight, high accuracy and stability. The required rigidity is achieved using additional diagonal struts, so that fixtures can be moved on wheels or by crane without problems. The demands on accuracy are guaranteed by the precision machined aluminium profiles and holes on all four sides. The outer surfaces of the Alufix bars can therefore simultaneously be used as screw-on surfaces for the models. The grid bores have a tolerance of H7 and the distance between bores lies at +/-0,01mm for problem-free connection of models and part specific adaptations.

Tolerances on models can be evened out or gap dimensions determined with the help of strong 3D and 6D adjustment blocks.