Modular Conveyor Belt features hygienic design.
Press Release Summary: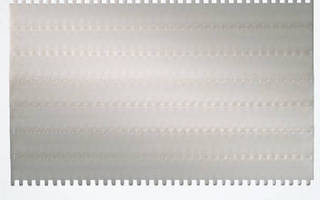 Consisting of 23.7 in. full-width link molding, MPB Single Link® eliminates directional joints throughout belt width and potential bacteria retention. Conical design hinges within transverse links allow effective cleaning, while self-draining design ensures liquids or detergent remnants are drained automatically from bottom of belt. By eliminating directional joints, side transfer of heavy or bulky products is accommodated and surface irregularities are minimized.
---
Original Press Release:

uni MPB Single Link®



Modular Belts and Hygiene

High standards of hygiene are essential in modern food processing. It is therefore crucial that processing machinery and materials are easily cleaned and remain free from bacteria. A 23.7" meat cutting line of traditional modular belt construction would typically comprise of 6" modules with 4 or more directional joints. Capillary action on these numerous slots can draw in fluids and if not cleaned correctly, can generate opportunities for bacterial growth. Unfortunately, increasing the slot sizes to improve cleaning efficiency also increases the opportunity for waste product ingress and further bacteria possibilities.

No joints with uni MPB Single Link®

For uni-chains the solution was obvious: remove the joint slots.

The result is the new uni MPB Single Link®, a 23.7" (603 mm) full-width link moulding that eliminates the directional joints throughout the belt width.

Hygiene maintenance is simpler, the surface is stiffer and more even, impact resistance is improved and maintenance reduced. The ideal solution to a demanding application.

Hygiene

In addition to the full width link that eliminates all directional joint slots and potential bacteria retention, the uni MPB Single Link® design incorporates conical design hinges within the transverse links; allowing faster and more effective cleaning, with a consequent reduction in detergent use and manpower utilisation.

Furthermore the self-draining design of the belt ensures that liquids or detergent remnants are drained automatically from the bottom of the belt.

Ergonomics

Side transfer of heavy or bulky products are better accomodated with the elimination of the directional joints. Surface irregularities are reduced and rigidity is improved.

Reduced belt damage

Compared with traditional modular belt construction, uni MPB Single Link® eliminates nearly 80% of the module corners vulnerable to impact damage, whilst improving the load distribution and consequent belt efficiency.

Better economy, reduced maintenance and downtime

The uni MPB Single Link® is assembled from fully symmetrical mod-ules covering the total width of the belt. This makes maintenance simplicity itself: Only one type of module to stock and fit, that cannot be placed incorrectly, and no special skills or tools to replace damaged links required.

uni MPB Single Link® is the most cost effective modular belt solution for the meat and equally demanding industry sectors. Economical in both initial cost and operational efficiency, uni MPB Single Link® also brings other savings in reduced cleaning costs, minimum maintenance and long term reliability.

Visit the Ammeraal Beltech Modular (formerly Uni-Chains)

Website at www.unichains.com or contact us for more literature on this revolutionary advancement in the conveyor belt industry.

Ammeraal Beltech Modular (formerly Uni-Chains)

Since its start in 1968 Ammeraal Beltech Modular (formerly Uni-Chains) has experienced massive growth from a small conveyor manufacturer to one of the leading suppliers in the world of conveyor chains and modular belt systems. This growth is mainly due to Ammeraal Beltech Modular's flexibility and commitment to helping customers finding the best solutions to their internal transport requirements.

Ammeraal Beltech Modular Innovations

For the past 30+ years we have invented the best TAB-chain in the world, Uni Super Flex (available in both steel and plastic), side-flexing chains with ribs, gripper chains with moulded rubber, safety chains, the strong 1" uni QNB belt system, uni Flex SNB, the side flexing belt system with reinforcement, uni MPB, the hygienic belt system for meat and food processing and many more.

Please contact Ammeraal Beltech Modular 1-800-YES-2-UNI (1-800-937-2864) for samples and literature, or visit our website at www.unichains.com.

More from Test & Measurement