Mobile Dryer/Conveyor includes 5.7 in. touchscreen control.
Press Release Summary: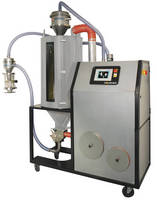 Mobile NovaWheel(TM) Dry/Convey models (75, 100 and 150 lb/hr) come with color touchscreen control that, along with intuitive icons, aids setup and monitoring of all dryer and conveying functions. While standard package includes NovaWheel Dryer, vacuum blower, vacuum purge valve with slide gate discharge, and machine mount vacuum receiver, features include 7-day timer, maintenance alerts, dew point sensor, loader control, RTC with battery backup, and Ethernet communications option.
---
Original Press Release:

NovaWheel(TM) Mobile Dry/Convey Series Include 5.7" Color Touch Screen Control as Standard



Color Touch Screen Is Now Standard on NWDC 75 through 150 lb./hr. Models

Baltimore, MD - Plastic processing auxiliary equipment supplier Novatec, Inc. today announced that it has made touch screen control standard on its Mobile NovaWheel Dry/Convey models (75, 100 and 150 lb./hr.) at no additional cost.

Mark Haynie, Product Manager for Novatec Dryers, said, "The color touch screen, with its intuitive icons that take you to the proper setup screen with just a touch, is far superior to microprocessor controls. To our knowledge, we are the only manufacturer offering color touch screen controls as standard on this type of dryer."

"The color touch screen provides easy setup and monitoring of all dryer and conveying functions at a glance. There are no confusing codes, no annoying function buttons, no manual lookups and no tiny type on the dryer to decipher."

The NovaWheel Mobile Dry/Convey package includes a NovaWheel Dryer, a strong vacuum blower that pulls material through a vacuum receiver into the fully-insulated drying hopper, a vacuum purge valve with a slide gate discharge, and a machine mount vacuum receiver. Dew point air of -40°F is guaranteed and the system employs dry-air conveying to avoid moisture pick-up.

Conrad Bessemer, President and CEO of Novatec added, "The speed and easy operation of the NovaTouch color dryer control improves every existing performance advantage of NovaWheel Dryers. It provides a seven-day timer for auto on/off, process and regeneration filter maintenance alerts, a dew point sensor, loader control, a real time clock with battery backup, and an Ethernet communications option."

The NovaTouch graphical interface lets operators control drying parameters with simple step-by-step commands that virtually eliminate wrong choices. All setups and adjustments are notably faster. Even the most complex setup becomes a brief sequence of touches.

Click for more details: http://www.novatec.com/NWDC
Email: sales@novatec.com Phone: 1-800-237-8379 FAX: 410-789-4638

Press contact:
Rob Neilley
robneilley@gmail.com
(303) 501-4519

Additional product information:
Mark Haynie, Product Manager Dryers
MarkH@novatec.com
(410) 789-4811

Link to product video:
www.novatec.com/touchvideo

More from Communication Systems & Equipment