MIXPAC™ MixCoat™ Spray Coating Dispensing System features dual stage trigger.
Press Release Summary: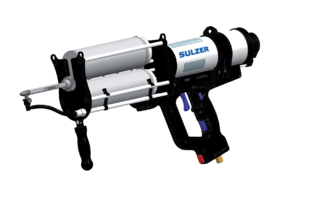 MIXPAC™ MixCoat™ Spray Coating Dispensing System is suitable for touch-up and repairs, pipeline repair and field joint coating applications. Unit comes with cartridges, mixers and pneumatic operated spray. This lightweight product' settings and dials are available on the handle and offers 1:1, 2:1, 3:1 and 4:1 ratios. Dispensing system is compatible with single line and dual line flex hoses and is used to spray polyureas.
---
Original Press Release:
Sulzer Announces MIXPAC™ MixCoat™ Spray Protective Coating Dispensing System
Lightweight ergonomic design ideal for pipeline repair and field joint coating
Sulzer Mixpac USA, Inc., the leading innovator of 2-component adhesive dispensing systems, announces the availability of MIXPAC™ MixCoat™ Spray, a member of the innovative MIXPAC™ MixCoat™ cartridge-based 2-component dispensing system family. The portable Mixpac Mixcoat Spray pneumatic dispense system is designed for small volume applications, touch-up, and repairs, including pipeline repair and field joint coating.
Mixcoat Spray is an excellent choice for complex, quick-set coating structures like 100 percent solid polyurethanes and polyureas. It is widely used for offshore and water/wastewater markets, spray-on truck bed liners and sealing membranes, secondary containment for tanks, and for sealing foundations and concrete pipelines.
The complete MixCoat Spray system includes cartridges containing the packaged coating material, a mixer that ensures consistent coating mix, and the pneumatic operated spray. With a lightweight, ergonomic design, the MixCoat Spray is ideal for one-handed use. Unlike other cumbersome dispense options, MixCoat Spray dials and settings are located right on the handle, eliminating the need for additional hoses and gauges. With MixCoat Spray, you have the ability to use 1:1, 2:1, 3:1 and 4:1 ratios. Simply remove the plunger disk and select the correct ratio.
This self-contained system requires only a pressurized air connection. The integrated air flow and dual stage trigger makes the system unique and user friendly. The dual stage trigger allows atomizing air to flow first to the nozzle and then to initiate material flow from the cartridge.
Mixcoat Spray is also compatible with both single line and dual line flex hoses for detailed spray projects. It is the only cartridge system that can be used to spray polyureas with a flexible hose, making it possible to spray inside small spaces like man-hole applications. This equipment is an ideal alternative for smaller spray projects that would normally require the use of costly dispensing equipment which require lengthy set-up and clean-up times.
About Sulzer Mixpac:
Sulzer Mixpac AG is one of the world's leading manufacturers and suppliers of products and services for liquid application and mixing technology. Our customers benefit from advanced solutions for precise applications as well as one- and two-component mixing and dispensing systems. A global network ensures local knowledge and expertise. Each year the company invests 7% of revenue in research and development, and brings an average of 15 new products to market. It has registered over 1,000 patents and has obtained numerous international certifications.
As part of the Sulzer Group's Applicator Systems Division, the Mixpac business unit is backed up by a strong international network. The company is headquartered in Switzerland.
More from Architectural & Civil Engineering Products