Mixed-Signal FPGA Development Board is supported by Libero® IDE.
Press Release Summary: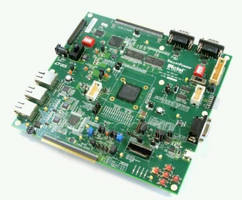 SmartFusion A2F500 Development Kit includes SmartFusion A2F500M3G-FGG484 FPGA, which offers 500K system gates, hard 100 MHz 32-bit ARM® Cortex(TM) M3 based MCU subsystem with 512 MB of embedded flash, and 64 KB of SRAM. FPGAs also have programmable analog blocks with 3 ADCs, 3 DACs, and 10 comparators. Ethernet, EtherCAT, CAN, RS485, UART, I2C, and SPI interfaces are available on kit, which is supported by Libero® IDE with SoftConsole Eclipse-based embedded development environment.
---
Original Press Release:

SmartFusion A2F500 Development Kit Now Available from Actel



MOUNTAIN VIEW, Calif. - For customers wanting to take immediate advantage of the highest density member of Actel's SmartFusion(TM) intelligent mixed signal FPGA family, the company today announced the availability of the A2F500 Development Kit. The kit is supported by Actel's Libero® Integrated Design Environment (IDE), which includes SoftConsole Eclipse-based embedded software development environment.

Actel today also announced the production availability of SmartFusion A2F500 devices. The device offers 500K system gates, a hard 100 MHz 32-bit ARM® Cortex(TM)-M3-based microcontroller subsystem with 512 MB of embedded flash and 64 KB of SRAM. The programmable analog blocks were also improved and now include 3 ADCs and 3 DACs, 10 comparators and much more. See related announcement at www.actel.com/company/press/2010/9/16/2.

The A2F500 Development Kit includes:

- SmartFusion development board with SmartFusion A2F500M3G-FGG484 device

- Ethernet, EtherCAT, CAN, RS485, UART, I2C and SPI interfaces

- Mixed Signal and Digital Expansion Header to connect application daughtercards

- Extensive off-chip SRAM, Pseudo SRAM, SPI Serial Flash and NOR Flash memories

- Several switches, LEDs, Organic LEDs

- Low-cost programming stick (LCPS)

Pricing and Availability

The A2F500-DEV-KIT is priced at $999 and available now for ordering. Customers may contact their local Actel sales office or distributor for more information. For evaluating SmartFusion FPGAs, an Evaluation Kit based on the A2F200 device is also available for $99 (A2F-EVAL-KIT).

About SmartFusion Intelligent Mixed Signal FPGAs

SmartFusion, the industry's first intelligent mixed signal FPGA, is the only device that integrates an FPGA, hard ARM Cortex-M3-based microcontroller subsystem (MSS) and programmable analog, offering full customization, IP protection and ease-of-use. Based on Actel's flash technology, SmartFusion devices are intended for hardware and embedded designers who need a true system-on-chip (SoC) solution with more flexibility than traditional fixed-function microcontrollers and without the cost of soft processor cores on traditional FPGAs. SmartFusion is an innovative solution for the industrial, medical, energy, communications and military markets in diverse applications, including system management, power management, motor control, industrial networking and display.

About Actel

Actel is the leader in low power FPGAs and mixed signal FPGAs, offering the most comprehensive portfolio of system and power management solutions. Power Matters. Learn more at www.actel.com.

Follow us on:

RSS: www.actel.com/rss

Twitter: twitter.com/actelcorp

Facebook: http://www.facebook.com/actelcorp

YouTube: http://www.youtube.com/actelcorp

Actel, Actel Fusion, IGLOO, Libero, Pigeon Point, ProASIC, SmartFusion and the associated logos are trademarks or registered trademarks of Actel Corporation. All other trademarks and service marks are the property of their respective owners.


More from Software