Mission Critical MIL-SPEC Corrosion Protection is Ready to Ship and Ready to Use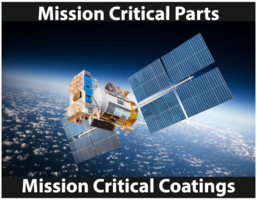 The Next-Gen Conversion Coating /Chemfilm, eTCP® RTU (Ready to Use)
Minden, NV, February 8, 2023 - CHEMEON Surface Technology continues their mission to provide innovation, services, and manufacturing of part-critical specified chemical coatings. CHEMEON innovations have resulted in federal contracts, research funding, and purchase from Aerospace, Military, Prime Contractors, and commercial Metal Finishers.
Historical challenges including the inability to see the "clear" coating of legacy trivalent chemfilm, and conformance failure, spurred a collaborative project between CHEMEON Surface Technology and the U.S. Navy. The result, CHEMEON's patented eTCP, which meets or exceeds MIL-DTL 81706 and MIL-DTL 5541 and TT-C-490 Type VI, delivering consistent corrosion protection on 2024 aluminum and light metals plus visual verification that your parts are protected.
Available in multiple forms, CHEMEON eTCP RTU (Ready to Use), offers an immediate solution to pandemic related supply chain and staffing shortages. Quick to ship, no mixing or formulating required, it's ready for processing and keeps your line in production.
CHEMEON eTCP represents the evolution of conversion coating and anodic seal pretreatments by replacing hexavalent chrome and its identifiable yellow/gold hue with the violet to blue hues of CHEMEON eTCP. CHEMEON products comply with RoHS & REACH directives, delivering environmentally safe, QPL chemistry that supports sustainability goals.
eTCP - Power of Protection You Can See from CHEMEON the only SBA HUBZone certified manufacturer of MIL-DTL 81706 Chemistry. Request a sample via email, info@chemeon.com or call Shay Davis at 775.301.5724.
About CHEMEON - CHEMEON Surface Technology is the only HubZone certified Tier 1 global supplier of advanced, environmentally responsible, surface engineering solutions, including patented MIL-SPEC chemistry CHEMEON eTCP® Touch-Up Pen, RTU (Ready To Use) and Powder, MIL-DTL-81706B conversion coating and anodic seal that provides a distinct color for visual verification. CHEMEON offers a full line of anodizing pre and post-treatments, dyes, including CHEMEON Deep Black MLW, Trivalent Chromium TCP-HF suite of chemistries, custom R&D, consulting, and university-level metal surface finishing training. https://chemeon.com
Contact:
Shay Davis
+1-775-301-5724
sdavis@chemeon.com
More from Paints & Coatings