MiniLock™ Fixture Clamps For High Density Part Setups Are Low-Profile Providing More Access to Clamped Parts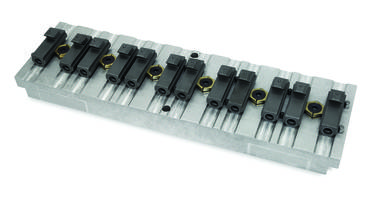 Minneapolis, Minnesota: The Kurt MiniLock™ is a small, low-profile screw down clamp that provides a cost-effective, easy-to-use option for rigidly clamping components on machine tables, fixture plates, tombstones and trunnion fixtures.
The versatility of MiniLock™ allows machinist creative planning around the parts to be machined, the quantity of production runs, and the specific machining center to be used. This helps maximize resources and eliminate dysfunctional workholding setups that deter productivity.
Operation of the MiniLock™ is easy with only a quarter turn to the screw. The clamp jaw of the MiniLock™ expands to engage the part and is forced both laterally and down, precisely clamping the part while preventing the part from lifting. MiniLock™ is small in circumference and easily positioned around or in between the workpiece and works in conjunction with workstops.
Manufactured to Kurt's high precision standards, the MiniLock clamping jaw is machined of aluminum bronze. The actuating screw is made of alloy steel. Available in four sizes both inch and metric: 0.688 inch (17.476 mm), 0.875 inch (22.250 mm), 0.938 inch (23.826 mm) and 1.125 inch (28.575 mm). Hex thickness range from 0.188 inch (4.776 mm) to 0.375 inch (9.525 mm). One package contains six MiniLocks.
For more information contact Steve Kane, call in USA and Canada, 1-877-226-7823. Outside USA and Canada, call 1-763-574-8309. Email: [email protected]
Kurt Manufacturing Company, Industrial Products Division, 9445 East River Road NW, Minneapolis, Minnesota 55433. In USA, Fax 1-877-226-7828. Outside USA, Fax 1-763-574-8313. www.kurtworkholding.com