Miniature SIP Relays are suited for ATE applications.
Press Release Summary: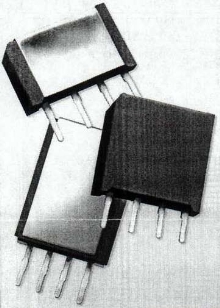 Manufactured with molded thermoset body on integral lead frame design, SIP reed relays incorporate magnetic shielding and hermetically sealed contacts. Models 9012 (10 W) and 9011 (3 W) share .400 x .150 in. footprint and have respective profiles of .400 and .265 in. Model 9117, rated 3 W, measures .270 x .150 x .385 in. Featuring insulation resistance of 10
12
ohm min, relays suit various test, measurement, and telecommunications applications.
---
Original Press Release:

9011,9012 & 9117 Minature SIP Relays


Miniature Molded SIP Reed Relays
The 9012 package dimensions are 47% smaller than standard 9000 SIPs, yet the relay retains the 10W switch ratings of its larger counterparts. The 9011 package dimensions are 65% smaller than the standard 9000 SIPs and incorporates Coto's 7mm switch rated at 3W. The 9117 goes one step further, reducing package size by 65% from standard 9000 SIPs. This is the smallest SIP footprint with a 3W rating. These miniature SIP relays are ideal for use in ATE applications and other high reliability test, measurement and telecommunications applications where high board density and long life are key requirements.

Series Features
o 9012 is a 10W SIP relay (.400" x .150" x .400")
o 9011 is a 3W SIP relay (.400" x .150" x .265")
o 9117 is the smallest 3W SIP relay (.270" x .150" x .385")
o Magnetic shielding reduces interaction
o Optional coil suppression diode protects coil drive circuits
o UL File # E67117 (9117 UL Pending)
o High insulation resistance 1012 ohm minimum.
o High speed switching
o Molded thermoset body on integral lead frame design
o High reliability, hermetically sealed contacts for long life