Servo Motor Controllers and Drives
Miniature Servo Drives support up to 2,400 W.
Press Release Summary: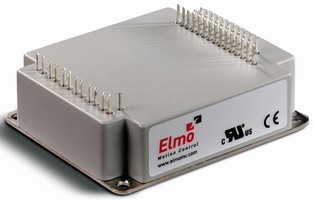 Integrating FASST (Fast And Soft Switching Technology) power management with thermal management technology, Whistle servo drives exhibit power density of 35 W/cm³ and achieve more than 99% efficiency. Available models include WHI-15/60 (15 A, 60 Vdc), WHI-10/100 (10 A, 100 V), and WHI-15/100 (15 A, 100 V). Each model integrates SimplIQ digital core, which offers functionality for motion control, programming, communication protocol support, and power capabilities.
---
Original Press Release:

Elmo Motion Control Expands Whistle Family of Miniature Servo Drives to 2400W



Elmo Motion Control, Inc. announces the release of three new powerful miniature servo drives which support up to 2400W. The new Whistle servo drives achieve the highest power density coupled with SimplIQ intelligence and are available in the following additional models: WHI-15/60 (15A, 60VDC), WHI-10/100 (10A, 100V), WHI-15/100 (15A, 100V).

By integrating Elmo's proprietary FASST (Fast And Soft Switching Technology) power management technology with cutting edge thermal management technology, the miniature Whistle exhibits an extraordinary power density of 35 Watts/cm3 that is over 5 times greater than the competition. Elmo's industry leading technologies enable the Whistle to achieve more than 99% efficiency in a miniature package.

Elmo's SimplIQ digital core embedded into the small servo drive offers a broad range of rich functionality and flexibility including motion control capabilities, programming, communication protocol support and versatile power capabilities. Additionally, the Whistle supports a wide range of position and velocity feedback options including: digital halls, incremental, encoder, incremental encoder and halls, resolver, interpolated analog encoder, analog halls, tachometer, position potentiometer, and absolute coarse/fine analog encoder.

The Whistle's compactness allows for easy and non-intrusive mounting near the axis and/or directly into the application configuration. Additionally, its pin-based design enables direct integration into the application's PCB for significant cost savings systems. Integrators and machine builders can quickly and simply implement the drive into their application, reduce the need for adding external components and decrease the amount of cabinet space and cables.

Elmo Motion Control designs, produces and markets highly efficient and compact servo amplifiers and digital servo drives for brush and brushless motors. Elmo's SimplIQ products are integrated in robots, semi-conductor production equipment, avionics, machine tools, packaging equipment, textile equipment, medical equipment and anywhere highly precise and reliable equipment is necessary. For more information, visit www.elmomc.com.

More from Optics & Photonics