Miniature Microphone features waterproof, dustproof design.
Press Release Summary: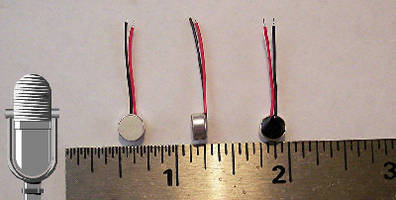 Measuring 6.02 x 2.7 mm, Model KECG2742 is omni-directional with response frequency of 100-20,000 Hz at low signal to noise response of 60 dBA. Output impedance is 2.2 kW at 2.0 Vdc/0.5 mA within temperature range of -20 to +70°C. Fully compliant with IP-57, IEC Standard v2.0, electret condenser microphone is housed in aluminum and suitable as adjunct for mobile radios, transceivers, or any equipment operating in harsh environmental conditions.
---
Original Press Release:
Waterproof, Dustproof Miniature Microphone from Transducers USA
Fully complying with the IP-57, IEC Standard, Ver. 2.0, Transducers USA's new miniature Model KECG2742 electret condenser microphone meets requirements for waterproof and dustproof applications. The units small size of 6.02mmD x 2.7mmH along with its compliance with the IP-57 Standard, make it an ideal adjunct for Mobile Radio, Transceivers, Remoter Microphones, or for any equipment requiring components to meet harsh environmental conditions. Termination is done through two sealed wire leads Transducers USA's new microphone is Omni-directional with a response frequency of 100 - 20,000Hz at a low signal to noise response of 60dBA. Output impedance is 2.2KW at its operating voltage 2.0VDC @ 0.5mA within a temperature range of from -20 to +70°C. The model is aluminum housed and is RoHS compliant. Current pricing is being quoted at $2.00 each in lots of 1,000 pieces, with delivery quoted at from stock to 6 weeks ARO depending on quantity requirement. Requests for samples, as well as for detailed specifications and specific quantity/price quotations and for a copy of their complete catalog speakers, microphone and audio alerts should be addressed to Transducers USA's main office and warehouse located at: Transducers, USA's new KECG2742 Electret Microphone is another example of the company's efforts to offer cutting edge products in addition to its extensive line of piezo buzzers, ceramic elements, speakers, receivers, microphones and ultrasonic sensors and emitters to the telecommunications, medical and specialized product industrial markets throughout North America. Most of their products are certified under ISO-9002 with many having ISO-9001 and/or QS-9000, and are manufactured in modern facilities in Taiwan, China and Korea