Mini Positioning Stages offer 1 nm or 4 nm resolution.
Press Release Summary: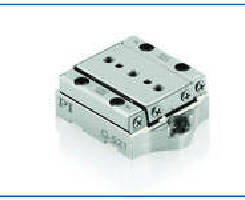 Available in open-loop and closed-loop versions measuring 21 mm wide, Series Q-521 offers travel ranges of 12, 22, and 32 mm. Piezo-driven linear positioners are based on stick-slip gearless motor principle with self-clamping motor design that provides long-term power-off position-hold capabilities without need for brake. Equipped with integrated linear encoder, stages provide precision positioning and alignment of compact opto-mechanical components in research and OEM instrumentation.
---
Original Press Release:

Compact, Low Cost, Accurate: Mini Positioning Stages, by PI



Auburn, MA -- Precision positioning systems specialist Physik Instrumente (PI) LP recently introduced a new miniaturized, piezo-driven linear positioner - the Q-521. Joining PI's existing Q-Motion linear and rotary positioning solutions product line, the ultra-compact Q-521 is only 21mm wide, and comes with travel ranges of 12mm, 22mm, and 32mm.



Q-521 Ultra-Compact, Economical in Open and Closed-Loop

Several options are available for the Q-521 stage series, from economical open-loop designs, to low-cost closed-loop versions and high-end feedback sensors providing 1nm resolution.



Vacuum compatible stages, and UHV and a non-magnetic option are also offered.



Video Animation: https://www.youtube.com/embed/zVNYxsudul0?rel=0 



About PI

PI is a leading manufacturer of precision motion control equipment, piezo motors, air bearing stages and hexapod parallel-kinematics for semiconductor applications, photonics, bio-nano-technology and medical engineering. PI has been developing and manufacturing standard & custom precision products with piezoceramic and electromagnetic drives for 4 decades. The company has been ISO 9001 certified since 1994 and provides innovative, high-quality solutions for OEM and research. PI is present worldwide with eleven subsidiaries, R&D / engineering on 3 continents and total staff of 800+.



USA / Canada

http://www.pi-usa.us

info@pi-usa.us



East / MidWest

(508) 832-3456

West / Canada / Mexico

(949) 679-9191

Silicon Valley / Bay Area

(408) 533-0973 Watch PI Videos on YouTube

https://www.youtube.com/user/nanopositioning



Follow PI on Twitter

http://twitter.com/PI_Physik_Inst



PI Blog

http://physik-instrumente.blogspot.com



Stick-Slip Gearless Cost-Efficient Drive System

Stick-slip drive motors, lacking gears, are powered by the natural difference in the static and dynamic friction coefficients found between two surfaces. This direct linear motion drive principle reduces the number of components that can wear, making the stages more compact, reliable and cost efficient. PI stages and drives can be customized for larger production quantities.



Self-Clamping at Rest, High Stability

The self-clamping motor design provides long-term power-off position-hold capabilities without the need for a brake -- another space and energy saving advantage of the Q-Motion positioner series.



More Information, Specifications and Datasheet:

http://www.pi-usa.us/products/Compact_Positioning_Stages/index.php?onl_prweb#StickSlip



Applications of the Q-Motion Miniature Linear Stages

Precision positioning and alignment of compact opto-mechanical components both in research and OEM instrumentation. Fields of application include photonics, bio-technology, nanotechnology, precision-optics, life-sciences and medical design.



Features & Advantages

Ultra Compact: 21x30x10mm (Closed-Loop Version)

Integrated Linear Encoder

1nm and 4nm Resolution Available

XY Configurations w/o Adapter Plate

12, 22, and 32mm Travel Range

10mm/sec Max. Velocity

More from Communication Systems & Equipment