Mini-Circuits Ceramic Hermetic Mixer Lineup Reaches 6 GHz!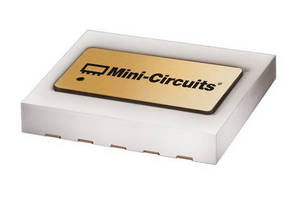 Like all of Mini-Circuits exciting new MAC mixers, the MAC-60LH+ delivers broadband performance suitable for high-quality instrumentation-in an ultra-reliable, ultra-low-profile case that meets, or exceeds, tough aerospace and military ground requirements for hermeticity, thermal shock, vibration, acceleration, and more. Designed for 1.6-6.0 GHz applications with a LO power of 10 dBm, the MAC-60LH+ has an attention-grabbing price ideal for competitive industrial and outdoor applications, or anywhere excellent performance and long-term reliability add bottom-line value!

Mini-Circuits also released two new Top Hat(TM) surface-mount models during the holiday season: the TC4-1WX+ unbalanced to balanced center tap transformer, with a 1:4 impedance ratio for applications operating at 3-800 MHz; and the TCD-10-4-75X+ 10-dB directional coupler, offering excellent coupling flatness (±0.1 dB typ) for 5-1000 MHz signals. These new models will be delivering all year long for our growing list of Top Hat customers, with faster set-up times, increased pick-up efficiency, improved placement accuracy and consistency, quicker identification and inspection, and reliable performance throughout the manufacturing process!

For more information on these, and all the rest of our newest products, just go to the New Product Announcements section at minicircuits.com!

More from Material Processing