Milling Cutter System features side-lock insert clamping.
Press Release Summary: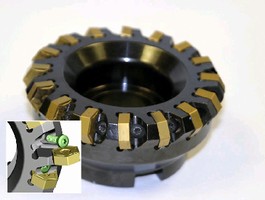 Suited for high-density yet compacted insert mounting, ValMILL(TM) VFORCE features Side Lock direct insert clamping design, which utilizes single screw and establishes anti-fling resistance to centrifugal forces when used in high-speed applications. Design also helps alleviate wear and tear on cutter bodies from chip abrasion. Most inserts have hexagonal shape providing up to 12 cutting edges. Sizes for milling cutters with Side Lock technology range from 3-10 in. dia.
---
Original Press Release:
'Side Lock' Insert Clamping Boosts Productivity Of New Milling Cutters
Valenite LLC has just unveiled its latest milling cutter technology-a steadily growing list resulting from the company's on-going five years-plus program of energizing and updating its product offerings-with the introduction of the ValMILL(TM) VFORCE Milling Cutter System. The new units feature a patent pending 'Side Lock' direct insert clamping design, a tool configuration ideal for high-density (larger number of inserts for any given cutter diameter) yet compacted insert mounting that presents more cutting teeth per revolution, and enables feed rates and material removal rates of up to three times the speeds of tools with traditional locking systems. Then too, by incorporating three of Valenite's new carbide grades and a ceramic insert along with expanded top form geometries now available, the machining applications for the VFORCE cutter family includes a wide range of workpiece materials, and are especially adept with cast iron. The Side Lock style mechanism design, utilizes a single screw with no extraneous parts required, provides quick release of the insert to minimize indexing/changeout times, is easier to use than screw down type or wedge systems and permits the use of a stronger, solid insert design. In fact, most inserts designated for use with the VFORCE system feature a hexagonal shape providing up to 12 distinct cutting edges. The unique Side Lock insert retaining design allows establishes high anti-fling resistance to centrifugal forces when used in high speed applications. The insert cavity and locking screw mounting hole are precision aligned and angled relative to each other-designed to apply forces in two directions as the screw is tightened. The insert is both pushed against the pocket side walls and pulled down securely to the pocket bottom. The resulting wedge-like condition not only retains the insert but, by applying constant lateral resistance on the threads, also prevents the lock screw from loosening and creating a hazardous condition to the workpiece. The compact nature of the VFORCE Side Lock design also typically presents a longer cutting edge throughout the cut cycle, resulting in a smoother cutting action. The increased number of inserts more evenly distribute chip loads and reduce individual work forces at the disperse engagement points, which can provide longer insert service and less frequent downtime for indexing and tool changes. The Side Lock design also provides excellent chip control and helps to alleviate wear and tear on cutter bodies from chip abrasion. Sizes for the ValMILL VFORCE face milling cutters with Side Lock technology range from 3" through 10" diameters. Inserts include three ValPro(TM) carbide grades, a ceramic material insert, with geometries for roughing operations and finish milling applications. Valenite, headquartered in Madison Heights, MI and, with global sales and service operations, is one of the largest suppliers of industrial cutting tools worldwide. In addition to the ValMILL line of milling cutters, the company manufactures a complete line of standard and special indexable-insert tooling components and systems for turning applications, grooving, threading and parting, advanced materials machining, plus offers MODCO® lineup of high-production tooling for custom machining systems, and ValCOOL® high-performance machining coolants. For additional information regarding Valenite and its products, visit www.valenite.com Direct All Reader Inquiries To: Tom Benjamin Valenite LLC 1675 E. Whitcomb P.O. Box 9636 Madison Heights, MI 48071-9636 Phone: 800.544.3336 Email: customer.service@valenite.com
More from Software