Mid-Power LEDs support wide array of lighting applications.
Press Release Summary: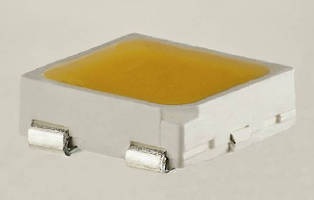 Designed to accelerate adoption of LED lighting, XLamp ML family offers red, green and blue color options. XLamp® ML-C and ML-E white LEDs have typical voltage of 6.4 and 9.6 V, respectively, at 50 mA. Model ML-C delivers luminous flux up to 37 lumens in cool white and up to 31 lumens in warm white, both at 100 mA. Available in 80, 85, and 90 CRI options, XLamp ML Series is suited for architectural, hospitality, emergency vehicle, and decorative lighting applications.
---
Original Press Release:

Cree Expands Industry's Most Versatile Family of Mid-Power Lighting-Class LEDs



New XLamp® LEDs Designed to Optimize and Simplify Luminaire Designs

DURHAM, N.C.--(Cree, Inc. (Nasdaq: CREE) introduces new mid-power XLamp® ML-C and ML-E LEDs, bringing increased versatility and flexibility to a wide spectrum of lighting applications. Designed to accelerate the adoption of LED lighting, the expanded XLamp ML family now offers red, green and blue color options, high-voltage and three different price-performance options in the proven and reliable ML package. The ML LED high-voltage options can enable the use of more efficient, smaller drivers to lower cost for applications such as LED replacement lamps.

XLamp ML LEDs deliver the flexibility and optimization needed to quickly design a portfolio of products for multiple lighting applications, including architectural, hospitality, emergency vehicle, decorative lighting, and linear florescent LED replacements. With a shared 3.5mm x 3.45mm footprint, customers can quickly and easily expand or update their product portfolio by leveraging a common ML package.

"Using products from Cree's ML LED family gives us great flexibility," said Michael Pena, President, Blue Ridge Lighting Solutions. "From a full white color temperature spectrum and different power ratings to the offer of color LEDs, the family of ML products gives us the capacity to offer our customers a full range of lighting options."

"Providing the broadest portfolio of LED components is essential to accelerate LED adoption," said Mike Watson, Cree senior marketing director, LED components. "Cree's expanded family of optimized ML LEDs further extends the options for our customers to support a wide array of lighting applications without sacrificing lighting-class performance."

The ML-C LED delivers luminous flux up to 37 lumens in cool white (5000 K) and up to 31 lumens in warm white (3000 K), both at 100 mA. The series versions of XLamp ML-C and ML-E white LEDs have typical voltages of 6.4V and 9.6V, respectively, at 50 mA. The entire family of XLamp ML white LEDs provides 6000 hours of LM-80 data available now, which can speed up the ENERGY STAR® qualification process. The XLamp ML white family is also available in minimum 80, 85 and 90 CRI options.

For more information on how Cree is accelerating LED lighting adoption, visit www.cree.com/versatile. To locate a distributor, please visit www.cree.com/buyxlamp.

About Cree

Cree is leading the LED lighting revolution and making energy-wasting traditional lighting technologies obsolete through the use of energy-efficient, mercury-free LED lighting. Cree is a market-leading innovator of lighting-class LEDs, LED lighting, and semiconductor products for power and radio frequency (RF) applications.

Cree's product families include LED fixtures and bulbs, blue and green LED chips, high-brightness LEDs, lighting-class power LEDs, power-switching devices and RF devices. Cree products are driving improvements in applications such as general illumination, backlighting, electronic signs and signals, power suppliers and solar inverters.

For additional product and company information, please refer to www.cree.com. To learn more about the LED Lighting Revolution, please visit www.creeledrevolution.com.

Cree® and XLamp® are registered trademarks of Cree, Inc. ENERGY STAR is a registered trademark of the U.S. Environmental Protection Agency.

Contacts

Cree, Inc.

Michelle Murray, 919-407-5505

Corporate Communications

michelle_murray@cree.com

More from Software