Microwave Precision Fixed Attenuator has DC to 20 GHz bandwidth.
Press Release Summary: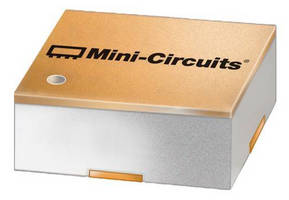 Supplied in 2.25 x 2.25 x 1.1 mm LTCC hermetic package, model RCAT 50 Ω fixed SMT attenuator has 2 W power handling capability. Absorptive attenuator, delivering reliable and repeatable performance, is RoHS compliant and suits wideband military applications as well as test and measurement equipment. Cu filled through-die vias and Cu metallization on backside provide low thermal resistance path to dissipate attenuated power.
---
Original Press Release:

Microwave Precision Fixed Attenuator



Mini-Circuits is recognized as the first and most reliable worldwide source for electronic design engineers. RF microwave component solutions from DC to 40 GHz with over 10,000 models to choose from. An extensive line of RF products for satellite, industrial Oem, cellular, PCS , radar and communications applications and more. Announcing a new rugged package precision surface mount attenuator. The model RCAT is a 50Ω 2W fixed suface mount attenuator family with a range from DC to 20 GHz.



Some dynamic features that makes this new model RCAT attenuator the model of choice;  Exceptional power handling of 2W, Wide band width DC to 20 GHz, Miniature size 2.25 mm x 2.25 mm x 1.1 mm Ceramic package, and Highly reliable and repeatable performance.



RCAT attenuators are fixed value absorptive attenuators. The highly precision and repeatable monolithic attenuator chip is processed using the most advanced semiconductor processing techniques. The Cu filled through-die via's and Cu metallization on the backside provides a very low thermal resistance path to dissipate the attenuated power. The attenuator chip is packaged in an LTCC hermetic package utilizing fully automated and highly reliable manufacturing processes.



These componets are RoHS compliant and perfect for wideband military applications as well as test and measurement equipment. Thermally optimized design can operate reliably at much higher input power as compared to similar devices.



You are welcome to join our partnership program for additional value from our line of uncompromising quality products servicing design engineers. International manufacturing and sales offices provide world wide distribution, contact us for world wide tech support call 718-934-4500, 800-654-7949 or customer service Fax; 718-934-7092, email us at sales@minicircuits or visit our website http://www.minicircuits.com/ for all our contact and product information.

More from Services