MicroTCA(TM) Platform is offered as 3U high chassis.
Press Release Summary: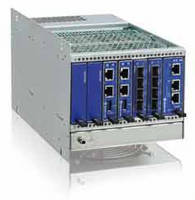 Featuring AC power supply and fans with airflow from below AdvancedMC(TM) slots, OM6060 helps in designing, evaluating, and testing compact, and highly integrated multiprocessor systems. Product can accommodate up to 6 mid-size AMCs, one full-size MicroTCA(TM) Carrier Hub, and supports multiple PCIe, GbE, and SRIO configurations. Platform supports multiple CPUs and I/O-boards over PCIe without need of extra PCIe fabric switch.
---
Original Press Release:

The Kontron OM6060 Lowers Costs and Increases the Versatility of MicroTCA(TM) Platform Development



Multiple fabrics plus processor and IO AdvancedMC(TM) module configurations

Eching, Germany, - Kontron announced today the Kontron MicroTCA(TM) platform OM6060, a compact and modular development platform that is configured for the design, evaluation, and test of small, compact, and highly integrated multiprocessor systems.

The Kontron MicroTCA(TM) platform OM6060 is targeted as a solution for prototypes in test equipment, packet processing, and industrial applications. The chassis is 3U high, 250 mm deep, and 156 mm wide. It contains an AC power supply and fans with airflow from below the AdvancedMC(TM) slots. The OM6060 can accommodate up to six mid-size AMCs, one full-size MicroTCA(TM) Carrier Hub, and supports multiple PCIe, GbE, and SRIO configurations. Developers benefit from an increased flexibility in MicroTCA(TM) platform development, which helps them in finding an ideal solution for specific application needs in a shorter time, thus reducing development efforts, time to market and total cost of ownership.

The Kontron OM6060 supports multiple CPUs and I/O-boards over PCI Express (PCIe) without the need of an extra PCIe fabric switch, helping to reduce system costs. PCIe fabric clocks are generated on the Kontron OM6060 backplane. The compact MicroTCA(TM) platform also provides Ethernet connectivity to all AMCs. In such configurations an Ethernet switch is located on the MCH. Depending on the level of Ethernet features required, Kontron offers a low-cost unmanaged MicroTCA(TM) Carrier Hub, the Kontron AM4901, or a fully featured MCH with carrier grade switching and management features, the Kontron AM4904.

For packet processing applications, the Kontron OM6060 provides extra direct Ethernet links between AMC slot 1 and four adjacent AMC slots, which can be used by an AMC packet processor, such as the Kontron AM4204 or AM4210. 10GbE fabrics and switches are not required, which reduces system complexity and board count, leading to overall reduced costs. Alternatively, the Kontron OM6060 can be used with high-speed SRIO links in point-to-point configurations between adjacent AMCs.

If Ethernet connectivity is not needed, costs can be reduced by using a MicroTCA(TM) Carrier Management Controller module (MCMC-module) on the backplane. The AMC bays are fully compliant with the AMC standards and the MicroTCA(TM) standard, so any standard compliant AMC may be used. Customer specific backplanes for OEM series production are available on request.

These multiple configuration options over the backplane make the Kontron MicroTCA(TM) platform OM6060 a perfect fit for a wide range of applications.

For more information on the Kontron MicroTCA(TM) platform OM6060, please visit: www.kontron.com/products/systems+and+platforms/microtca+integrated+platforms/om6060.html
For more information on the Kontron MCH AM4901, please visit: www.kontron.com/products/boards+and+mezzanines/advancedmc/microtca+carrier+hub+mch/am4901.html
For more information on the Kontron AM4204 and AM4210, please visit: www.kontron.com/products/boards+and+mezzanines/advancedmc/io/am42xx.html
For more information about MicroTCA(TM), please visit: www.kontron.com/microtca
For more information about AMCs, please visit: www.kontron.com/amc/

About Kontron
Kontron, the global leader of embedded computing technology, designs and manufactures embedded and communications standards-based, rugged COTS and custom solutions for OEMs, systems integrators, and application providers in a variety of markets. Kontron engineering and manufacturing facilities, located throughout Europe, North America, and Asia-Pacific, work together with streamlined global sales and support services to help customers reduce their time-to-market and gain a competitive advantage. Kontron's diverse product portfolio includes: boards & mezzanines, Computer-on-Modules, HMIs & displays, systems & platforms, and rugged & custom capabilities. Kontron is a Premier member of the Intel® Embedded Alliance and has been a VDC Platinum Vendor for Embedded Computer Boards 5 years running. Kontron is listed on the German TecDAX stock exchange under the symbol "KBC". For more information, please visit: www.kontron.com


More from Electrical Equipment & Systems