MicroTCA Starterkit includes configuration management software.
Press Release Summary: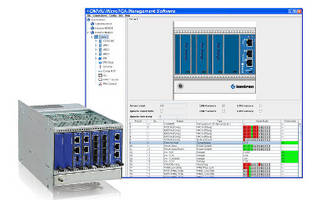 Providing space for up to 6 AdvancedMCs, MicroTCA(TM) Starterkit includes Kontron MicroTCA(TM) system OM6060 with AC power supply and entry-level MicroTCA(TM) Carrier Hub AM4901, together with OMVIU MicroTCA(TM) configuration management software. OMVIU allows remote monitoring and control of MicroTCA(TM) system on any Java-enabled platform. GUI helps to create remote controlled MicroTCA(TM) systems, including extensibility for vendor-specific recognition and graphical representation of extra boards and components.
---
Original Press Release:

Kontron Introduces Configuration Management Software on a MicroTCA Starterkit



Kontron configuration management software OMVIU delivers powerful GUI to MicroTCA(TM) applications

Paired with the MicroTCA(TM) Starterkit, developers receive comprehensive visualization and management options

Eching, Germany, - Kontron announced today the introduction of its new application ready MicroTCA(TM) Starterkit which is operational out-of-the box. The MicroTCA(TM) Starterkit includes the Kontron MicroTCA(TM) system OM6060 with AC-Power supply and an entry-level MicroTCA(TM) Carrier Hub (MCH) AM4901 together with the new Kontron MicroTCA(TM) configuration management software OMVIU. Kontron OMVIU delivers a Graphical User Interface for fast and convenient system configuration.

All Kontron MicroTCA(TM) systems are managed over IPMI. The MCH is in charge of this type of management: it checks electronic keying before booting-up the system; it controls the power, hot-swap cycles and fans. Also, IPMI allows monitoring the system, i.e. to check system event logs, monitor the health of the system and to take measures in case of problems. In order to facilitate system configuration over IPMI, Kontron provides the Kontron OMVIU graphical user interface.

Kontron OMVIU is a Java based tool and allows remote monitoring and control of MicroTCA(TM) systems on any Java enabled platform. The intuitive GUI allows the simultaneous access to several MicroTCA(TM) shelf or carrier managers. The product supports Kontron's entire AMC/MicroTCA(TM) portfolio and any standard compliant system (backplanes, fan units, power modules), MCH or AMC from other vendors. With Kontron OMVIU, all remote control and visualization can be done via mouse clicks, without the deeper level of knowledge and experience required for a command line interface (CLI).

"Kontron OMVIU supports an icon based visualization of the system and its states" says Irene Hahner, product manager in charge of the MicroTCA(TM) product line. "It is easy to learn and provides monitoring and tracing of events, error logging facilities, and corrective actions, all by visualization. This way, we aim to facilitate using state-of-the art managed systems for our customers and benefit from the better diagnostic coverage and system availability. On an entry level system, Kontron OMVIU allows users to become familiar with MicroTCA, in particular with respect to the MicroTCA's(TM) management and control capabilities. In combination with the hardware, the MicroTCA(TM) Starterkit provides a comprehensive package, which allows reducing project lead times and offers a cost optimized and complete set for evaluating MicroTCA(TM) and gaining experience with MicroTCA(TM) based applications."

The Kontron OMVIU graphical user interface helps to create remote controlled MicroTCA(TM) systems, including extensibility for vendor-specific recognition and graphical representation of extra boards and components. With its trace and error logging facilities it is possible to track behavior of components with respect to conformance to standards. During development, lab evaluation, and deployment, the remote system may be supervised with user notification on changes.

The MicroTCA(TM) Starterkit provides space for up to 6 AdvancedMCs, such as the Kontron Processor AdvancedMC(TM) AM4020 or the Kontron Processor AdvancedMC(TM) AM4120, storage or peripheral interfaces. Beyond the Starterkit, Kontron also offers a variety of MicroTCA(TM) systems, which apply to entry-level designs and compact sized systems up to high-performing systems with high-speed fabrics such as PCIe, SRIO, GbE and 10GbE. MicroTCA(TM) platforms are ideal solutions for the development and evaluation of multi-processor systems with high demands on throughput, CPU performance and availability, such as telecommunications, test equipment, military communications, research, medical image processing, and industrial automation.

For more information about the MicroTCA(TM) Starterkit, please refer to:
http://www.kontron.com/products/systems+and+platforms/microtca+integrated+platforms/om6060+microtca+starterkit.html

For further information on the Kontron MicroTCA(TM) configuration management software OMVIU, please refer to: www.kontron.com/products/systems+and+platforms/microtca+integrated+platforms/omviu.html

For more information about AdvancedMC(TM) modules, please refer to: www.kontron.com/technologies/advancedmcs/

For more information about MicroTCA(TM), please refer to: www.kontron.com/technologies/microtca/

About Kontron

Kontron is a global leader in embedded computing technology. With more than 30% of its employees in Research and Development, Kontron creates many of the standards that drive the world's embedded computing platforms. Kontron's product longevity, local engineering and support, and value-added services, helps create a sustainable and viable embedded solution for OEMs and system integrators. Kontron works closely with its customers on their embedded application-ready platforms and custom solutions, enabling them to focus on their core competencies. The result is an accelerated time-to-market, reduced total-cost-of-ownership and an improved overall application with leading-edge, highly-reliable embedded technology.

Kontron is listed on the German TecDAX stock exchange under the symbol "KBC". For more information, please visit: www.kontron.com/

Contact Details

EMEA

Norbert Hauser

Kontron

Tel: +49 (8341) 803-0

norbert.hauser@kontron.com

Americas

Richard Pugnier

Kontron

Tel:+1 (858) 623-3006

richard.pugnier@us.kontron.com

All rights reserved.

Kontron is a trademark or registered trademark of Kontron AG.

PICMG®, AdvancedTCA®, ATCA®, AdvancedMC(TM), and MicroTCA(TM) are trademarks of the PCI Industrial Computers Manufacturers Group.

All other brand or product names are trademarks or registered trademarks or copyrights by their respective owners and are recognized.

All data is for information purposes only and not guaranteed for legal purposes. Subject to change without notice. Information in this press release has been carefully checked and is believed to be accurate; however, no responsibility is assumed for any inaccuracies.

Sara E. Fest | Marketing Project Manager

Kontron | +1 412.919.3710 | www.kontron.com