Microscopy Systems support materials science applications.
Press Release Summary: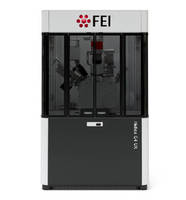 Featuring advanced scanning electron microscope and focused ion beam technology, Helios™ G4 DualBeam Series offers automated sample preparation for transmission electron microscopy and 3D sample characterization. Phoenix FIB column offers low-voltage performance for ultra-low sample damage, while Elstar electron column with UC+ technology offers 4x more monochromated current than previous generation. With Auto Slice & View 4.0 software, unattended FIB nanotomography is possible.
---
Original Press Release:

FEI Launches Helios G4 DualBeam Series for Materials Science



The Helios G4 DualBeam Series features new capabilities to enable scientists and engineers to answer the most demanding and challenging scientific questions. 



Hillsboro, Ore. —FEI (NASDAQ: FEIC) continues to lead the industry with the launch of the Helios™ G4 DualBeam Series for materials science, offering highly automated and precise sample preparation for transmission electron microscopy (TEM) and three-dimensional (3D) sample characterization. The Helios G4 features FEI's most advanced scanning electron microscope (SEM) and focused ion beam (FIB) technology with a new level of automation and ease-of-use.



"We are pleased to announce this flagship DualBeam family, which brings a higher level of performance to our materials science customers. The Helios G4 is equipped with new technology to help materials scientists obtain the highest quality subsurface and 3D information at the nanometer scale. The DualBeam's new guided TEM sample preparation workflow enables even novice users to quickly and easily prepare high-quality, ultra-thin samples for S/TEM imaging," states Trisha Rice, vice president and general manager of FEI's Materials Science Business.



The Helios G4 offers many innovative enhancements. Some of the most significant include:

- FEI's latest and most precise Phoenix FIB column, with industry leading low-voltage performance for ultra-low sample damage,

- FEI's high-resolution Elstar electron column, with the new UC+ technology that offers 4x more monochromated current than the previous generation,

- Auto Slice & View 4.0 software for unattended FIB nanotomography and a semi-automated workflow for TEM sample preparation, both of which provide high quality results, faster and easier than ever before.



The Helios G4 DualBeam Series also includes the FX model -- a flexible system that delivers dramatic sub-three Ångström STEM resolution. The FX model combines high-resolution imaging and sample preparation on one system, so results can be obtained within minutes of completing the lamella without removing the sample from vacuum, rather than the hours or days required previously to finalize the images on a stand-alone S/TEM system.



"The unique combination of new column technology, software and control electronics helps to support advanced materials characterization," adds Rice. "The Helios G4 provides essential data to multi-scale, multimodal workflows, giving scientists the ability to locate and obtain information quickly and easily. These novel product enhancements continue to differentiate FEI's flagship DualBeam Series from all other FIB/SEM solutions on the market."



For more information about FEI's Helios G4 DualBeam Series, please visit http://www.fei.com/products/dualbeam/helios-nanolab/.



About FEI

FEI Company (Nasdaq: FEIC) designs, manufactures and supports a broad range of high-performance microscopy workflow solutions that provide images and answers at the micro-, nano- and picometer scales. Its innovation and leadership enable customers in industry and science to increase productivity and make breakthrough discoveries. Headquartered in Hillsboro, Ore., USA, FEI has over 2,800 employees and sales and service operations in more than 50 countries around the world. More information can be found at: www.fei.com.

More from Electrical Equipment & Systems