Microscope achieves up to 120 nm optical resolution.
Press Release Summary: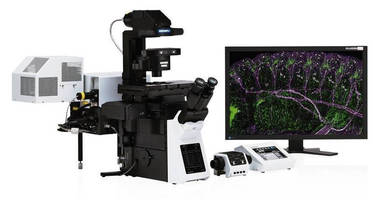 FluoView FV1200, when used with Olympus FV-OSR software module, lets users access Super Resolution technology, which facilitates research by revealing subtle mechanisms at work within cells or tissue. Able to reaching 120 nm resolution with simultaneous multicolor capture, 3D confocal laser scanning microscopy tool is based on modular IX83 automated inverted microscope platform and capable of up to 5 simultaneous fluorescent detection channels.
---
Original Press Release:

An Innovative Solution for Confocal Super Resolution



Thanks to a novel software upgrade from Olympus, an optical resolution of up to 120 nm is now achieved in cell and tissue imaging. With the new Olympus FV-OSR software, the FluoView FV1200 is transformed into a powerful system for confocal Super Resolution microscopy.



Hamburg – Introducing a smart route to Super Resolution microscopy, the Olympus FV-OSR software module enables users of the FluoView FV1200 easy access to what was previously the domain of only specialised microscopy systems. The extra detail offered by Super Resolution technology facilitates researchers in revealing the most subtle mechanisms at work within cells or tissue.



3D confocal laser scanning microscopy with the FluoView FV1200 achieves a vastly improved lateral and axial resolution compared to standard widefield, but is still limited by the diffraction limit of light. In certain settings images can therefore suffer from poor contrast, even following post-acquisition processing. This is where Super Resolution microscopy comes into play, breaking the diffraction limit of light and enhancing cell and tissue imaging studies.



Up until now, access to this technology demanded substantial investment, but Olympus is leading the change in making this accessible and easy to use for the life science research community. Drawing from the latest Olympus optical and digital technologies, the FluoView FV1200 can now be transformed into a system capable of reaching a resolution of up to 120 nm, with simultaneous multicolour capture.



The proprietary technology of the FV-OSR software controls specific hardware settings and advanced signal processing. Operation itself has been designed with the user in mind, requiring only minimal training requirements to achieve expert results. The software functions alongside the high-sensitivity GaAsP detector, with its superior signal-to-noise ratio are boosting resolution.



Capitalising on the flexibility of the modular IX83 automated inverted microscope platform, the FluoView FV1200 is a system optimised for a diverse array of live cell imaging applications, including FRAP, FLIP and photoactivation. Capable of up to five simultaneous fluorescent detection channels the FV1200 also includes the industry's first dedicated laser light stimulation scanner (SIM Scanner), achieving simultaneous stimulation and imaging for real-time visualisation of rapid cell responses.



Building upon this impressive portfolio, Super Resolution technology is expanding the possibilities of discovery in live cell imaging.



For further information, please visit www.olympus-europa.com/microscopy.



Please contact:

Olympus:

Ralf Schäfer (Marketing Communications Manager Microscopy)

Olympus Europa SE & Co. KG

Hamburg, GER

Tel: +49 (0) 40 23773 5913

Fax: +49 (0) 40 23773 505 913

E-mail: microscopy@olympus-europa.com

Web: www.olympus-europa.com/microscopy



Text:

Victoria Coupe (Account Manager)

Alto Marketing

Southampton, UK

Tel: +44 (0) 1489 557 672

Fax: +44 (0) 1489 559 246

E-mail: victoriac@alto-marketing.com

Web: www.alto-marketing.com



Olympus media contact in the USA:

Ilene Semiatin

Edge Communications Inc.

White Plains, NY 10605

1.914.684.0959

ilene@edge-comm.net

More from Communication Systems & Equipment